The first chili cook-off known to modern man took place in 1967 in uninhabited Terlingua, Texas (once a thriving mercury-mining town of 5,000 people).  It was a two-man cook-off between Texas chili champ Wick Fowler (a Dallas and Denton newspaper reporter) and H. Allen Smith (humorist and author), which ended in a tie.
The cook-off challenge started when H. Allen Smith wrote a story for the Holiday magazine titled Nobody Knows More About Chili Than I Do, which raised the wrath of Texas chili graduate students.  The cook-off competition ended in a tie vote when the tie-breaker judge allowed someone to ram a spoonful of chili into his mouth and promptly spit it all over the referee's foot and then he went into convulsions.  He rammed a handkerchief down his throat and pronounced himself unable to go on and declared a one-year moratorium in the world championship chili cook-off.
Learn how to make the delicious and award winning H. Allen Smith Chili Con Carne. It is sure to be an instant hit at any backyard barbecue or potluck.
Recipe from the book Chili Madness by Jane Butel, published by Workman Publishing, 1980.
Learn about the history and legends of Chili, Chili Con Carne.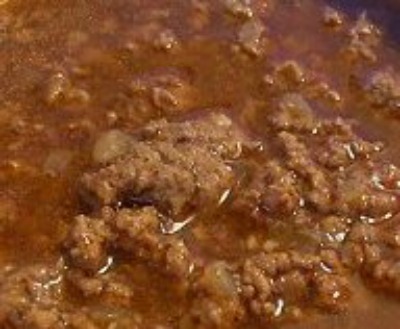 H. Allen Smith Chili Con Carne Recipe:
Keyword:
H. Allen Smith Chili Con Carne Recipe
Ingredients
2

tablespoons

olive oil

or butter

4

pounds

beef sirloin

or tenderloin, coarse chili grind

1

(6-ounce) can

tomato paste

4

cups

water

3

medium

onions,

coarsely chopped

1

green bell pepper,

cored, seeded and coarsely chopped

4

large cloves

garlic,

finely chopped

3

tablespoons

red chile peppers,

ground

1

tablespoon

oregano

(preferably Mexican), dried

1/2

teaspoon

basil,

dried

1

tablespoon

cumin seed

or ground cumin

Salt

and freshly-ground pepper to taste
Instructions
Heat the oil or butter (or a blend of the two) in a heavy 4-quart pot over medium heat. Add the meat to the pot. Break up any lumps with a fork and cook, stirring occasionally, until the meat is evenly browned.

Stir in the remaining ingredients. Bring just to a boil, then lower heat and simmer, uncovered, for 2 to 3 hours. Stir occasionally and add more water if necessary. Taste and adjust seasoning.
Comments and Reviews