Tolbert's Original Red Chili Recipe is by Frank X. Tolbert, from his book, A Bowl of Red, published by Texas A&M University Press, 1953.  Frank Tolbert founded the Terlingua International Chili Championship in Terlingua, Texas and owned a chain of chili parlors in Dallas, Texas.
The most famous and well known chili cook-off took place in 1967 in Terlingua, Texas.  Terlingua was once a thriving mercury-mining town of 5,000 people and it is the most remote site you can choose as it is not close to any major city and the nearest commercial airport is almost 279 miles away.  Just getting to Terlingua requires a major effort.  It was a two-man cook-off between Texas chili champ Homer "Wick" Fowler (1909-1972), a Dallas and Denton newspaper reporter, and H. Allen Smith (1906-1976), New York humorist and author, which ended in a tie. Try making Tolbert's Original Red Chili for your family.
Learn more about the history and legends of Chili, Chili Con Carne.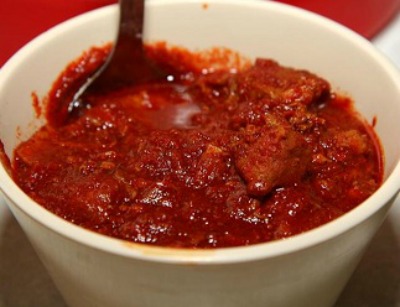 Tolbert's Original Bowl of Red Chili Recipe:
Keyword:
Tolbert's Original Bowl of Red Chili Recipe
Ingredients
3

pounds

lean beef

1/8

pound

rendered beef kidney suet

(if you want to go for it)

1

teaspoon each

oregano,

cumin powder, salt, and cayenne pepper

3

tablespoons

chile powder

(optional)

1

teaspoon

Tabasco Sauce

4

hot

chile peppers

At least 2

cloves of

garlic,

chopped

2

teaspoons

masa harina,

cornmeal, or flour (optional)*
Instructions
Sear beef in a large soup pot or cast-iron Dutch oven. You may need a little oil to prevent the meat from sticking. When the meat is all gray, add suet, chile peppers, and about two inches of liquid (you can use water, I use beer). Simmer for 30 minutes.

Add spices and garlic, bring just to boil; lower heat and simmer for 45 minutes. NOTE: Add more liquid only to keep the mix from burning. Skim off as much grease as you can, and add masa harina. Simmerfor another 30 minutes. Taste and adjust spices if necessary.

This is a spicy chili, so leave out some of the spicy stuff in the beginning if you have a tender tongue. At this point, I refrigerate the chili overnight which allows the chili to mellow and you can skim off all the grease.
Recipe Notes
* The masa adds a subtle, tamale-like taste, but it also thickens the chili.  Masa Corn Mix is a tradition Mexican whole corn flour that is found in the baking aisle of most grocery stores (not to be confused with corn meal).  
Source:  Photo from the Road Food website.
Comments and Reviews