Berenjena Frita con Miel de Cana
Fried Eggplant with Molasses (Berenjena Frita con Miel de Cana) is an Andalusian specialty of southern Spain.  In Andulusia, these delicious fried eggplant slices are served with the dark and toasty local sugar cane honey or molasses.  The combination of savory and sweet in this tapa recipe is sensational!
Arriving in Malaga, we picked up a rental car and headed southwest to a small beach community called Torremolinos, a municipality on the Costa del Sol of the Spanish Mediterranean.  For dinner, we were referred by our hotel to Restaurante Don Canap, a family owned business with great attention to detail.  We sat down to experience some wonderful Spanish hospitality and our first challenge of ordering in Spain.  Fortunately for us, the menu was offered in five different languages which helped to ease us into the many new food experiences to follow in the next two weeks.
This fried eggplant recipe was one of our many delicious tapas included in our meal.  The owner, Juan Antonio, shared the recipe with us, by bringing out the ingredients one by one so we could write them down.  Thank you for the wonderful experience Juan Antonio!
Check out What's Cooking America's Travels in Andalusia, Spain.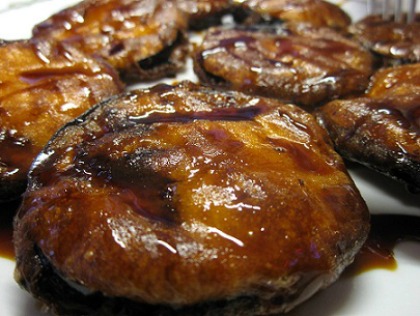 Fried Eggplant With Molasses Recipe:
Keyword:
Fried Eggplant With Molasses Recipe
Ingredients
Fried Eggplant with Molasses:
1

large

eggplant

(aubergine)

1

cup Spanish

olive oil,

virgin (for frying)

1 to 2

teaspoons

coarse salt

or sea salt

2 to 3

ounces

sugar cane honey

(miel de cana)**
Instructions
Fried Eggplant with Molasses Instructions:
Prepare the Salsa Orly; set aside.

Wash and dry the eggplant, cut off the stalk end, and slice into rounds approximately 1/2-inch thick.

Place the eggplant slices on a large cookie sheet or platter. Lightly salt the eggplant slices. Turn over and lightly salt the other side. Allow to sit for 1 hour to draw the moisture from the eggplant. Pat dry with a paper towel.

Dip each salted and dried eggplant slices in the prepared Salsa Orly just before frying in the olive oil.

Frying the Eggplant Slices: In a heavy frying pan or skillet, heat olive oil (approximately 2 inches) over medium-high heat until the temperature reaches 355 degrees F. on your internal thermometer (so the eggplant slices sizzle when they touch the hot oil). TIP: Use a small piece of bread. Place it in the hot oil and see if it turns golden brown in less than a minute. If it does, the oil is ready.

Working in small batches, add 4 to 5 batter-coated eggplant slices at a time to the hot oil, turning them with a slotted spoon until they are lightly browned, cooking about 1 to 2 minutes on each side. Be careful not to overcrowd the skillet or the oil temperature will fall and the eggplant will absorb too much oil.

Remove fried eggplant slices from the oil and place on paper towel to absorb any excess oil.

To serve, drizzle "miel de cana" (sugar cane molasses) or honey over the top and then serve hot. These are best eaten as soon as they are done, but they are also very good reheated in the oven.


Salsa Orly Batter Instructions:
Salsa Orly is a thick batter used for coating and deep frying. Our host, Juan Antonio, uses this Salsa Orly recipe as his fry coating, but other places may just dredge the eggplant through some flour, a method is known as a la andaluza.

In a small bowl, combine the baking power, flour, and salt; set aside.

In a large bowl, beat the egg. Stir in the baking powder/flour mixture.

Add the beer and sparkling water, stirring until smooth. The combination of beer and sparkling water in the mixture creates a sort of yeast that causes the batter to rise. If desired, stir in a pinch of saffron to the mixture. Let rest in a cool place, approximately 20 minutes, until the mixture rises.

Any excess batter can be stored in a glass or plastic container in the refrigerator for up to 1 week.
Recipe Notes
* Olive oil is an integral part of Spanish cooking.  Almost every dish includes olive oil in the list of ingredients.  Olive oil is ideal for frying, as long as it is used at the proper temperature and not over-heated.
** Molasses in Spanish is called melaza, or sometimes asmiel (which is honey).  This recipe traditionally uses Miel de Cana, or literally "sugar cane honey," and is very typical of the regions of Granada and Malaga, where this recipe originated.  If miel de cana is not available in your area, you can substitute molasses or your favorite honey.  Our host Juan Antonio, uses Salsa Orly as his fry coating, but other places may just dredge the eggplant through some flour a method is known as a la andaluza.  If sugar cane molasses is not available in your area, you can substitute regular molasses, your favorite honey, or maple syrup.

I get many readers asking what cooking/meat thermometer that I prefer and use in my cooking and baking. I, personally, use the Thermapen Thermometer. Originally designed for professional use, the Super-Fast Thermapen Thermometer is used by chefs all over the world.  I only endorse a few products, on my web site, that I like and use regularly.
You can learn more or buy yours at: Super-Fast Thermapen Thermometer.
Sponsored Content
Comments and Reviews