Spanish Tapa – Patatas Alioli
Spanish Potatoes in Garlic Mayonnaise is another very popular Tapa at bars in Spain.  This Spanish Tapa is often served compliments of the house when you order a drink.
This delightful Spanish Potatoes in Garlic Mayonnaise was served to use during our What's Cooking America's trip to Spain in 2014.  It was so good!  Please read and learn about our interesting culinary trip to Andalusia, Spain.
Our Journey through Andalusia Spain (Spanish: Andalucía, España):  Over the last two weeks of March 2014, we travelled southwest Spain visiting a variety of cities and enjoying wonderful hospitality, cuisine, and weather.  Please join for the next few weeks as we share our adventures, recipes, and insights of our exploration of Andalusia Spain.  I have taken liberties with the language to season the story.  I have attempted to sprinkle a few Spanish words and phrases in the log in hopes of giving you taste of Spain as you meander through our journey.
Also please check out our Spanish Paella Dinner Menu (with recipes) using this delicious Spanish Potatoes in Garlic Mayonnaise (Patatas Alioli).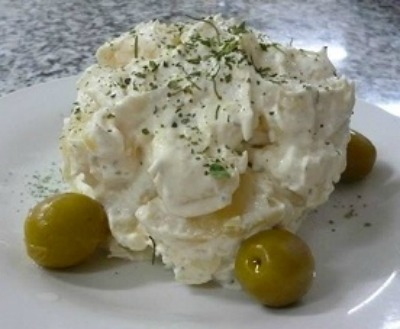 Photo taken at Campanillas Restaurante in Madred-Barajas, Spain.
Spanish Potatoes in Garlic Mayonnaise Recipe:
Keyword:
Spanish Potatoes in Garlic Mayonnaise Recipe
Servings
:
4
to 6 servings
Instructions
Thoroughly wash the potatoes. Place them, unpeeled, in a saucepan and cover with cold water.

On high heat, bring to a rolling boil and cook the potatoes, uncovered, for 15 to 20 minutes, depending on the quality and size of the potatoes. Prick with a knife to check for doneness. When cooked, turn off the heat and leave the potatoes to temper in the water another 20 minutes. After 20 minutes, remove from the water and let cool. Peel and cut the cooled cooked potatoes into 3/4-inch chunks

Garlic Cloves: When preparing garlic for cooking, check for and remove any green sprouts from the center of the garlic clove, as the sprouts add an unpleasant bitterness. To remove the green sprouts, cut the garlic in half, pull out the sprout from each side, and discard.

In a bowl, combine the mayonnaise, minced garlic, and parsley. The mayonnaise should be a little thin to combine smoothly with the potatoes, so dilute with a little sherry vinegar or fresh-squeezed lemon juice, if necessary. Gently fold in the potato chunks. Season with salt and let sit for approximately 20 minutes at room temperature before serving.

Salad may be made ahead of time and refrigerated. Bring to room temperature before servine.
Source:  Recipe from the cookbook, Tapas – The little Dishes of Spain, by Penelope Casas.
Comments and Reviews