Travels in Jerez de la Frontera, Spain – Part 6
By Nancy Hartman of What's Cooking America
Destino – Jerez de la Frontera, Spain:

You say Jereth Not Jerez:  We are learning our Spanish during our journey and after several days of pronouncing Jerez with American phonetics, my daughter, who is fluent in Spanish (and was leaving us the next day), took to setting us straight on pronunciation.  She taught us that the J's sounded like H's and the z's and c's were th's.  We should not say Gracias but Gracia and so on.  We practiced our attempts at proper pronunciation to the amusement of my daughter and the patient population of Spain as we encountered them.  Needless to say, I enrolled in a Spanish class once I returned home.
In Jerez, we rented an apartment for our 3-day stay which was located in the old part of town.  This meant silence in the car after turning into the land of very small, narrow streets.  Our apartment was nice, 2 bedrooms, 2 bathrooms, and a second floor with a roof terrace.  We had a kitchen and most importantly a clothes washer.  At the halfway point of our trip it was time to do laundry.
Dancing Horses aren't Just for Little Girls:  We awoke late and readied ourselves for our visit to the Real Escuela Andaluza del Arte Ecuestre or Royal Andalusian School of Equestrian Art, located a very short walk from our apartment.  We had tickets to attend an early afternoon show before seeing my daughter off on her 7-hour train ride back to Almería, Spain.
The Royal Andalusian School is a riding school comparable to the Spanish Riding School in Vienna, Austria.  The Royal Andalusian School is well known for its "dancing stallions" shows.  The equestrian school is housed in an elegant 19th century mansion, designed by the architect who designed the Opera House in Paris.
After the outstanding horse show and seeing my daughter off to the train, my Mother and I, who are not practiced nappers, sampled the tradition of siesta for the first time.  After our nap, we took a stroll in search of a Bodega that we planned to visit in Jerez.  We wound through the streets of the city discovering the Plaza de Espana, some very narrow allies, and many abandon buildings.  When we reached the Bodega at 5:00 p.m., we were told by nearby workers that it closes at 4:30.  We would have to wait for another day!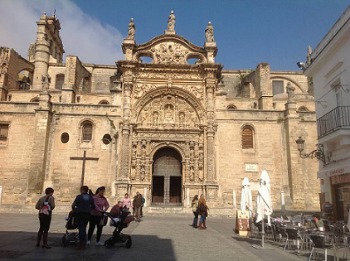 Plaza de Espana
Destino – The Pinta, Niña, and El Puerto de Santa María:  Today we decided to visit El Puerto de Santa Maria, to find the fish market.  I had read about a restaurant that was near the market where you chose your seafood fresh from the case and they would cook and serve it in their restaurant.  We set "The Queen" (our GPS) with our destination and she once again guided us to a nearby town no more than a 30 minute drive away.  We found parking at the Plaza de toros de El Puerto (the Bull ring), where we paid a shifty-looking fellow one Euro to watch our car….When in Spain!
After we settled on our direction, the walk was short to the market.  There we found a myriad of stalls filled with fresh displays of seafood nestled in melting ice.  Of course it smelled like fish, but it was mild and pleasant smell of fresh sea.
Comida:  The restaurant we were looking for was called Romerijo.  It was a distance from the market, but the seafood store and restaurant covered the whole block.  As usual, we were early for lunch and the place was empty.  We took a table and ordered a variety of food.  I ordered the grilled fish kabob and Mom and Don shared a seafood tasting menu.  The seafood tasting menu included a variety of cold salads, followed by fried course of dogfish, prawns, and then a course of assorted shellfish consisting of 1/2 a spiny lobster, king prawns, white prawns, crab claws, and extra dry salted tuna.  Mom and Don had a heck of a time peeling the shellfish – they did not seem to want to come out of their shells, but they persevered and downed their plates of delights from the sea.
What Does Crudo Mean?  As we were finishing up our meal, I watched a couple arrive with butcher paper parcels. They took a seat on the patio.  I could see through the window as they unwrapped their butcher paper bundles and poured prawns, crab claws, and lobsters on to their plates.  I commented, "Look this couple picked their own seafood and is going to have it cooked."  As I said it, the lady picked up a prawn, and proceeded to peel and eat it.  It was then I realized that the shellfish was raw.  I pulled out the Spanish dictionary and looked up the word "Raw," which is crudo and asked our waiter, pointing to Mom and Don's plate, "Crudo?"  He replied, "Si, Si" and went on about something in Spanish.  It was then that we realized why it had been so difficult to peel the shellfish, they were all raw!
Mom's Raw Seafood Plate
Back To Jerez – Sherry and Champagne Have The Same Rules:  A visit to Jerez de la Frontera, the land of sherry is not complete without a trip to one of the many bodegas (wine cellars) offering tastings.  The major reason to visit Jerez, was to sample its most famous product – sherry.  You can do this at a number of bodegas associated with the world's best-known brands.  A bodega tour for sherry is different to your average wine tour.  One of the key differences being that there are no vineyards involved in a sherry tour.  This is because although the grapes are obviously important, the process that makes wine sherry is all in the fortification and aging process.
We returned to the Bodega Tradicion after our day trip to El Puerto de Santa María and met with Ulrike.  Bodega Tradicion, which is the only winery in the region whose production focuses exclusively on the oldest of the wines (the V.O.S vinum optimum signatum – aged for more than 20 years) and the V.O.R.S. (vinum optimum rare signatum – aged more than 30 years).  Both are special due to their age and complexity, and classified as Solera Gran Reserva.  She shared with us a few of the general concepts of making Sherry.
Bodega Tradicion
The first lesson, similar to the making of Champagne, Sherry hails from just one place in the world, the Sherry Triangle.  Under Spanish law, all wine labelled as "Sherry" must legally come from the Sherry Triangle formed by the three towns of Jerez de la Frontera, Sanlucar de Barrameda and El Puerto de Santa Maria in Andalusia.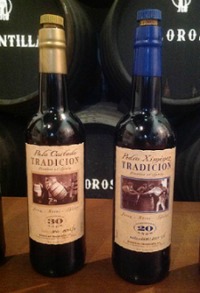 Sherry is almost exclusively made from one rather non-distinct grape, Palomino, and comes in two basic styles, oxidized and non-oxidized.  The key difference is the layer of yeast known as "flor" that prevents oxidation when present in a barrel.  Fino is kept fresh, pale and dry by the flor, while Amontillado and Oloroso are exposed to oxygen during the process, yielding richer, darker Sherries.
There are only three white grapes used in the making of Sherry:
Palomino:  the dominant grape used for the dry Sherries.  Approximately 90 per cent of the grapes grown for Sherry are Palomino.  This neutrality of the Palomino grape is what makes it an ideal grape because is complimented by the Sherry winemaking process.
Pedro Ximénez: used to produce sweet wines.  When harvested these grapes are typically dried in the sun for two days to concentrate their sugars.
Moscatel:  used similarly to Pedro Ximénez, but it is less common.
Reminder to Self – Don't Touch the Artwork:  Another wonderful and surprising perk of touring the Bodega Tradicion is the permanent exhibition from the Joaquin Rivero Picture Collection that is housed in the Bodega.  In a climate controlled environment, adjacent to the tasting room, there is a private collection with over 300 major works by the great masters of Spanish Art from the 15th to the 19th centuries.  The collection includes Zurbaran, Velazquez, Camprobin, Pereda, Paret, Goya, Lucas Villamil, De Haes, Jimenez Aranada, El Greco, Piccaso, and the original painting of The Capitulation of Granada by F. Padilla Ortiz: The Surrender of Granada in 1492.
We toured the fabulous works of art, with only air between us and the paintings – a truly unique experience of Spanish art.  I could reach out and touch the paintings, but of course I wouldn't dare!
This is the owner's private art collection which included a Goya, a Velasquez, an El Greco, Picasso, and most impressively "The Surrender of Granada in 1492" by Ortiz.
Picasso- Pi-ci-ci-o:  After touring the gallery we settled into the tasting room where we sampled several different kinds of Sherry, aged for 20 to 30 years and a 50 year old Brandy.  On the wall, behind our guide Ulrike, were some Picasso works, including painted tiles that Picasso completed when he was eight years old.
---
Travels in Andalusia, Spain – Indexed by Cities Visited:
Torremolinos and Malaga, Spain – Part 1
Ronda, Spain – Part 2

Tarifa, Spain – Part 3

Tangier, Morocco (Africa) – Part 4

Gibraltar, United Kingdom – Part 5

Jerez de la Frontera, Spain – Part 6

Olvera and Antequera, Spain – Part 7

Granada and Almeria, Spain – Part 8

Motril, Spain – Part 9

Madrid Barajas, Spain – Part 10

Comments and Reviews