Seared Moroccan-Style Tuna is so good and also aromatic!  This simple, but rare seared tuna, is coated in a combination of traditional Moroccan spices and then marinates for hours so the spices can really penetrate the outer flesh of the fish.  Impress all your family and friends with this Seared Moroccan-Style Tuna Recipe.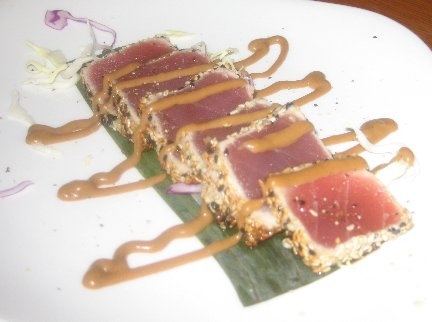 Seared Moroccan-Style Tuna Recipe
Ingredients:
4 Ahi tuna steaks (3/4 to 1-inch thick, about 6 ounces each)
1 teaspoon paprika
1/2 teaspoon ground cumin
1 teaspoon turmeric
1/4 teaspoon ground anise seed
1/2 teaspoon ground ginger
1/8 teaspoon ground cinnamon
1/4 teaspoon red pepper flakes
Salt and freshly-ground pepper to taste
1 tablespoon freshly-squeezed lemon juice
2 tablespoon extra-virgin olive oil
2 tablespoons butter, melted
4 tablespoons ground fresh coriander
NOTE: If you can obtain the Moroccan spice blend called ras-el-hanout, you could substitute it for the spices in this recipe.
Instructions:
Lightly rinse the tuna steaks and pat dry with paper towels; set aside.
In a small bowl, combine paprika, cumin, tumeric, anise, ginger, cinnamon, pepper flakes, salt, pepper, and lemon juice. Lightly rub both sides of the tuna steaks with olive oil. Rub the seasoning mix on both sides of tuna steaks; coating them well. Wrap the prepared tuna steak in plastic wrap and refrigerate for 2 hours.
Using a heavy bottomed sautpan or a cast-iron pan, warm the remaining olive oil. Increase the heat to high and place the tuna in the pan. Sear for 1 minute, then turn over carefully, reducing the heat to medium. Sear the other side for 1 more minute until medium rare. (Do not overcook the tuna or the meat will become dry and lose its flavor.)
Pour the melted butter over the tuna steaks right after you take them from the oven; then sprinkle with coriander. Allow the cooked tuna steak for rest 10 minutes, and then slice.
Serve immediately.
Makes 4 servings.
https://whatscookingamerica.net/tunaMoroccan.htm
Comments and Reviews