Seared Ahi Tuna with Lavender-Pepper is absolutely fantastic!  This makes an elegant first course. The crust is especially intriguing because of the use of lavender.
This Seared Ahi Tuna with Lavender-Pepper Recipe has been adapted from From The Earth To The Table – John's Wine Country Cuisine, by John Ash with Sid Goldstein, published by Dutton Book, 1995.
How To Select, Buy, and Cook Fish.
Photo by Leftovers from Food.com blog.
Seared Ahi Tuna with Lavender-Pepper Recipe:
Keyword:
Mustard Seed Dressing Recipe, Seared Ahi Tuna with Lavender-Pepper Recipe
Ingredients
Seared Ahi-Tuna with Lavender-Pepper:
Mustard Seed Dressing:
4

tablespoons

whole-grain mustard,

prepared

2

tablespoons

olive oil,

extra-virgin

2

teaspoons

mustard seed,

toasted

2

tablespoons

rice vinegar,

seasoned

3

tablespoons

vegetable stock

or water

1

teaspoon

honey

(or to taste)

Coarse salt

or kosher salt and freshly-ground black pepper
Instructions
Seared Ahi Tuna with Lavender-Pepper Instructions:
Prepare Mustard Seed Dressing; set aside.

If using the center-cut Ahi tuna, trim and cut the tuna into a block approximately 2 inches across; then cut into 1-inch steaks.

Crush the salt, peppercorns, fennel seeds, and lavender with a mortar and pestle or a rolling pin.

Lightly oil the tuna with 2 teaspoons of the olive oil. Then evenly coat the tuna with the lavender-pepper mixture, patting off any excess.

In a heavy bottomed sautpan or a cast-iron pan, heat the remaining 1 tablespoon olive oil. Increase the heat to high and place the tuna in the pan. Sear for 1 minutes, then turn over carefully, reducing the heat to medium. Sear the other side for 1 more minutes until medium rare. Remove from heat and immediately refrigerate the tuna for at least 1 hour, but no more than 3 hours.

To serve, arrange the greens on chilled individual serving plates. Drizzle with Mustard Seed Dressing. Thinly slice the tuna and arrange on top of the dressed greens.
Mustard Seed Dressing Instructions:
Preheat oven to 375 degrees F.

Place mustard seeds in a baking pan. Place in oven and roast for a couple of minutes (watch carefully so the seeds do not burn). Remove from oven and let cool.

Whisk all the ingredients together and season to taste.
Recipe Notes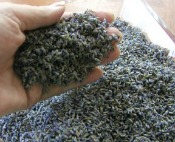 *  Lavender - In cooking, use 1/3 the quantity of dried lavender flowers to fresh lavender flowers.  The key to cooking with lavender is to experiment; start out with a small amount of flowers, and add more as you go.
Adding too much lavender to your recipe can be like eating perfume and will make your dish bitter.  Because of the strong flavor of lavender, the secret is that a little goes a long way.
Comments and Reviews