Creamed Oysters in Acorn Squash combines two of my favorite foods – oysters and acorn squash.  Besides being just plain delicious, these Creamed Oysters are beautiful to look at!
When choosing oysters at the market, make sure that they be fresh.  If one is open (which it should not be) it should snap shut emphatically once tapped.  If an oyster does not close immediately, do not buy or use it.  Oysters should feel heavy and full in your hand.  Oysters lose moisture once they are removed from the sea.  The heaviness suggests that they are freshly harvested.  Fresh oysters should smell sweet and briny like the sea.  Learn how to purchase and shuck oysters.
Learn about Squash Hints, Tips, and Information, and here for more Squash Recipes.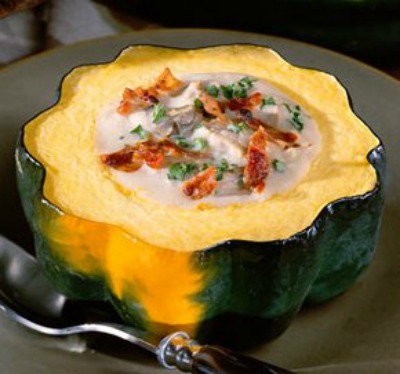 Creamed Oysters In Acorn Squash Recipe:
Keyword:
Creamed Oysters In Acorn Squash Recipe
Ingredients
4

medium

acorn squash

1/4

cup

butter,

cut up

2

(12-ounce) containers fresh (live)

oysters*

1

(10 34-ounce) can

cream of celery

soup, undiluted

2

lean

bacon

slices, cooked and crumbled

1/4

cup fresh

parsley,

minced
Instructions
Preheat oven to 350 degrees F.

Cut squash in half crosswise around the middle. Use a spoon to scoop out the seeds and stringy stuff in the center of each squash half; discard.

Place squash halves, cut side up, in a greased 15- x 10-inch baking pan; divide butter pieces evenly between each squash halve.

Bake approximately 45 to 60 minutes or until tender when pierced with a fork. Remove from oven.

While the squash is cooking, drain oysters, reserving half of liquid. Place oysters and reserved liquid in a large saucepan; cook over medium heat, stirring occasionally, until oysters just begin to curl. Stir in cream of celery soup, and then spoon the oyster/soup mixture evenly into warm squash halves. Sprinkle with crumbled bacon and minced parsley.

Bake for an additional 5 minutes. Remove from oven and serve.
You Might Also Like:
Scalloped Oysters
Scalloped oysters are fantastic served as a special side dish, first course, or appetizer with crackers. For many families, this dish is a Christmas tradition.
Oyster Casserole
This is an excellent oyster dish to serve your family or friends.
Oysters Casino
Oyster lover's delight! A very easy recipe to prepare and always a favorite with my husband.
Grandma's Oyster Dressing
This oyster dressing must be served as a side dish and not as a turkey stuffing in the turkey.
Sources:  Original recipe recipe by Marty Hyson of Baltimore, Maryland.  I slightly adapted this recipe from Southern Living Magazine, January 1997.  Photo by J. Savage Gibson; Styling by Trinda Gage
Comments and Reviews