Roasted Balsamic Pearl Onions make a great side dish for your Thanksgiving meal.  Roasted Balsamic Pearl Onions are also delicious to serve with a steak or other grilled meat as they are sweet, tart, and savory all at the same time.  Your kitchen will smell fantastic as these pearl onions bake!
I slightly adapted this recipe from The Best of Cooking Light 4: Special Edition magazine
Roasted Balsamic Pearl Onions Recipe:
Keyword:
Roasted Balsamic Pearl Onions Recipe
Instructions
Preheat oven to 475 degrees F.

In a large stockpot, bring water to a boil; add onions. Stir for 30 seconds then remove with a slotted spoon. Peel onions then arrange on a jellyroll pan. Sprinkle onions evenly with crushed rosemary leaves.

In a medium sized bowl, whisk together wine, soy sauce, balsamic vinegar, olive oil, and honey; drizzle over onions.

Bake for 30 minutes, stirring once after first 15 minutes. Remove from oven and remove onions with a slotted spoon; set aside in a bowl.

Pour remaining balsamic vinegar sauce from the pan into a small saucepan. Bring to a boil; reduce heat and simmer for 2 minutes until slightly syrupy. Pour balsamic sauce over onions then toss to coat
Recipe Notes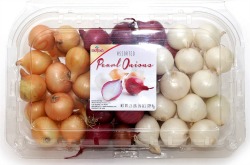 *  Pearl onions are small, marble-sized (1/4-inch to 1 1/2-inch diameter) onions that are sold loose or in netted bags.  Sometimes you can even find colored pearl onions (reddish-purple skin) in your market.  If you do, use them as they make a beautiful presentation.  Photo from Melissa's Produce.
If using frozen onions, make sure they are completely thawed and pat very dry.  Skip first step about blanching/peeling the pearl onions.
Nutrition Facts
Roasted Balsamic Pearl Onions Recipe:
Amount Per Serving
Calories 153.7
Calories from Fat 32
% Daily Value*
Fat 3.5g5%
* Percent Daily Values are based on a 2000 calorie diet.
Comments and Reviews