Green Beans Provencal recipe is a tasty veggie combination that features the trademark ingredients of Province, France.  These green beans can be served as either a salad or a side dish with your meal.
This Green Beans Provencal recipe and photo were shared with me by my sister-in-law, Shirley Roth, of Alamogordo, NM.  This recipe is originally from Southern Living Magazine, March 2007.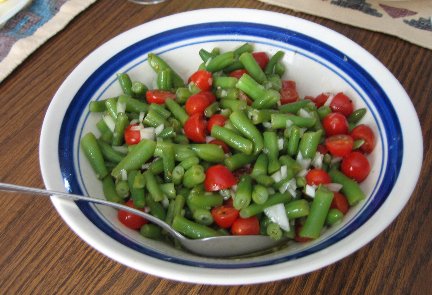 More of Linda's great Bean Recipes, and learn about Green Bean Hints, Tips, and Information.
Green Beans Provencal Recipe:
Keyword:
Green Beans Provencal Recipe
Servings
:
4
to 6 servings
Ingredients
1 1/2

pounds fresh

green beans

or 1 (16-ounce) package frozen cut green beans, thawed

1/2

pint (approximately 20) cherry

tomatoes,

halved

3

tablespoons

red onion,

minced

2

tablespoons

red or white wine vinegar

2

tablespoons

water

2

teaspoons

olive oil,

extra-virgin

1

tablespoon

Parmesan cheese,

freshly-grated

1/4

teaspoon

salt

1/4

teaspoon

thyme,

dried

1/4

teaspoon

black pepper

1

clove

garlic,

minced
Instructions
Fresh Green Beans: Wash beans and trim. In a large saucepan over medium-high heat, blanch the green beans in boiling salted water for approximately 3 to 4 minutes, drain and refresh in ice water. Drain well and let cool.

Frozen Green Beans: In a large saucepan over medium-high heat, add enough water to completely cover the beans; bring to a boil. Cook green beans approximately 3 to 4 minutes or until crisp-tender. Remove from heat; drain well and let cool.

In a small bowl, whisk together wine vinegar, water, olive oil, Parmesan cheese, salt, thyme, pepper and garlic; set aside.

In a large serving bowl, combined drained and cooled beans, tomatoes, and onion; toss gently. Pour prepared vinegar vinaigrette over the bean mixture; toss to coat.

Serve at room temperature, or cover and refrigerate until ready to serve.

NOTE: If you refrigerate this recipe longer than 4 hours, the bright color of the green beans will start to fade. To make ahead, prepare the beans and vinaigrette separately; cover each and refrigerate until ready to serve. Toss together right before serve.
---
More Delicious Green Bean Recipes:
Green Bean Casserole – Green Bean Supreme
This green bean casserole is considered the ultimate comfort food and one of the most popular side dishes served on Thanksgiving in America.  Most holiday meals (especially Thanksgiving and Christmas) would not be complete without this green bean dish.
Forget the Diet Green Beans
There are certain recipes where ingredients like bacon fat just cannot be substituted.  This is one of those recipes!
Mom's Green Beans – Country-Style Green Beans
Everything is better with bacon!  My husband loves this recipe and wants me to make it every time we have fresh green beans.  He says it reminds him of the green beans his mother used to make.
Green Beans with Basil and Cherry Tomatoes
This is a colorful and full–flavored side dish.  The combinations of purple and green beans are interesting.  Take note, however that the purple beans turn green after cooking.
Comments and Reviews