Green Bean Casserole is considered the ultimate comfort food and one of the most popular side dishes served on Thanksgiving in America.  
I have include two popular Green Bean Casserole recipes below.  The original recipes calls for canned green beans mixed with cream of mushroom soup, topped with French fried onions, but many variations have evolved to include other ingredients.  Most holiday meals (especially Thanksgiving and Christmas) would not be complete without this green bean dish.  This dish can be prepared early in the day or even a couple of day ahead of time.
Green Bean Casserole History:  Green bean casserole was invented in 1955 by Dorcas Reilly and her team at the Campbell Soup Company Test Kitchen in Camden, New Jersey to encourage the use of their soups.  Campbell's now estimates 40% of the Cream of Mushroom soup sold in the United States goes into making a green bean casserole.  According to historians, Doracas Reilly presented the original recipe card to the National Inventors Hall of Fame in 2002.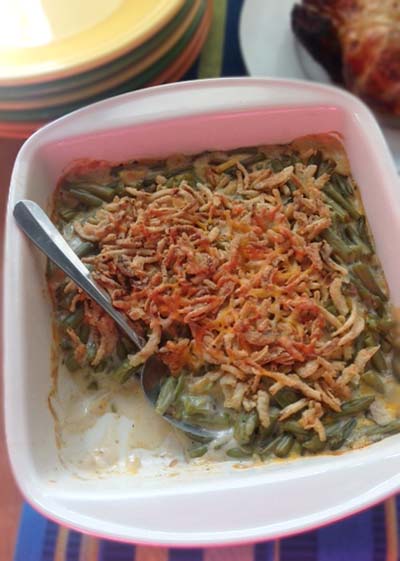 More of Linda's great Bean Recipes, and learn about Green Bean Hints, Tips, and Information.
Don't forget to check out my Thanksgiving Turkey Dinner Menu which includes Green Bean Casserole.
Classic Green Bean Casserole Recipe:

Original recipe by the Campbell Soup Company.
Prep time: 5 minutes
Cook time: 30 minutes

Ingredients:
1 can (10 3/4 ounces) Campbell's Condensed Cream of Mushroom Soup (Regular or 98% Fat Free)
1/2 cup milk
1 teaspoon soy sauce
Dash ground black pepper
2 (16-ounce) cans of cooked green beans
1 1/3 cups French's French Fried Onions
Preparation:
Stir the soup, milk, soy sauce, black pepper, beans and 2/3 cup onions in a 1 1/2-quart casserole.
Bake at 350 degrees F. for 25 minutes or until the bean mixture is hot and bubbling.  Stir the bean mixture.  Sprinkle with the remaining onions.
Bake for 5 minutes or until the onions are golden brown.
Makes 6 servings.
Green Bean Supreme – Green Bean Casserole Recipe:
This is my family's favorite version of the classic green bean casserole.
Prep time: 15 minutes
Cook time: 40 minutes

Ingredients:
3 (14.5-ounce) cans French-style green beans>, undrained
4 uncooked bacon slices, chopped
2 tablespoons chopped onion
1 green bell pepper, cored, seeded, and chopped
1/2 cup chopped pimiento, drained
2 tablespoons butter or margarine
1 (10 3/4-ounce) can cream of mushroom soup, undiluted
1 (2-ounce) can mushrooms, undrained
1/2 pound processed American cheese, cut into cubes
1/4 teaspoon Worcestershire sauce
1 cup crushed Ritz crackers or canned onion rings (your choice)
Butter
Preparation: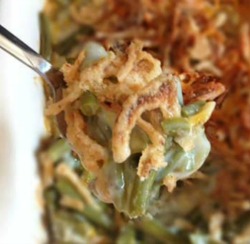 Preheat oven to 350 degree F.
In a large saucepan over medium-high heat, cook green beans with bacon pieces and onion long enough to cook bacon and season beans; remove from heat.  Drain bean mixture and place into an ungreased 2-quart casserole dish.
In the same saucepan over medium heat, saute bell pepper and pimiento in butter or margarine.  Add mushroom soup, mushrooms, American cheese, and Worcestershire sauce.  Cook, stirring occasionally, until cheese is melted and mixture is thick.  Remove from heat and pour over beans.
Sprinkle the top with crushed Ritz crackers or onions rings and dot with butter.  NOTE: My family likes the onion rings on top.  Bake, uncovered, 30 minutes or until top is golden brown and thoroughly heated.  Remove from oven and serve.
Makes 8 servings.
More Delicious Green Bean Recipes:
Forget the Diet Green Beans
There are certain recipes where ingredients like bacon fat just cannot be substituted. This is one of those recipes!
Green Beans Provencal
This tasty veggie combination features trademark ingredients of Province, France.  Can be served as either a salad or a side dish with your meal.
Mom's Green Beans – Country-Style Green Beans
Everything is better with bacon!  My husband loves this recipe and wants me to make it every time we have fresh green beans.  He says it reminds him of the green beans his mother used to make.
Green Beans with Basil and Cherry Tomatoes
This is a colorful and full–flavored side dish.  The combinations of purple and green beans are interesting.  Take note, however that the purple beans turn green after cooking.
Comments and Reviews