10 Minute Potatoes Recipe
Microwave Roasted Potatoes Recipe is perfect for the busy cooks who enjoys a good meal, as these roasted potatoes take only 10 minutes.  Start learning to use your microwave oven and save time in the kitchen with these delicious and easy-to-make microwave roasted potatoes!
Slicing potatoes more thinly has the effect of microwave drying the slices similar to the way an oven would dry them.  Added fat (olive oil) gets extremely hot (400+ degrees) and "browns" the potatoes.
Recipe and photo courtesy of the Potatoes Goodness Unearthed.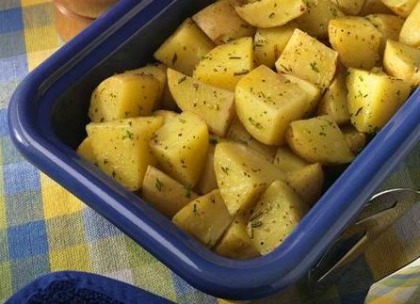 Microwave Roasted Potatoes Recipe - 10 Minute Potatoes:
Keyword:
10 Minute Potatoes Recipe, Microwave Roasted Potatoes Recipe
Servings
:
4
to 6 servings
Instructions
Scrub and rinse the potatoes thoroughly. Cut potatoes into uniform-size cubes. Place into microwave-safe dish.

Drizzle a small amount of olive oil over potatoes. Sprinkle with seasonings of your choice. Toss to evenly disperse oil and seasonings.

Tightly cover dish with a lid or plastic wrap, and place in microwave. The hot oil browns the potatoes, while the plastic wrap creates steam to cook the insides to tender perfection.

Microwave on HIGH for 10 minutes or until potatoes are done. Carefully remove from microwave and serve.
Recipe Notes
*  When shopping for potatoes, look for potatoes that are firm and smooth.  Avoid potatoes with wrinkled or wilted skins, soft dark areas, cut surfaces, and those that are green in appearance.
Comments and Reviews