Browned Butter Smashed Potatoes with Butternut Squash Recipe will definitely impress your family and guests with its delicious combination of potatoes and butternut squash.  Enjoy these smashed potatoes with mellow butternut squash and fresh sage leaves crisped in brown butter.  This is another great side dish to serve with your holiday meal!
Because the potatoes and squash are slightly chunky, it is called "smashed" instead of "mashed."  The difference between these two techniques, is the mashed potatoes are smooth, and smashed potatoes are left with chunks potatoes, but not lumpy.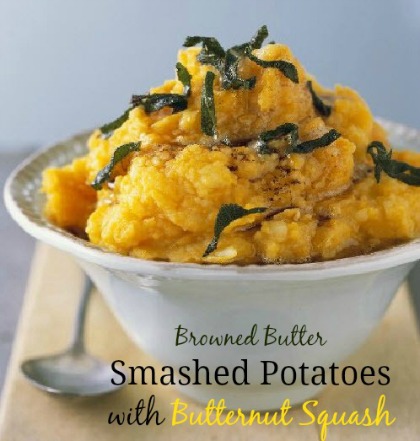 Learn about Potato Hints, Tips, and Information, Sweet Potato Tips, History of Potatoes.  Also learn about Squash.
Please check out my Thanksgiving Turkey Dinner Menu which includes this Browned Butter Smashed Potatoes with Butternut Squash dish.
Browned Butter Smashed Potatoes with Butternut Squash Recipe:
Keyword:
Browned Butter Smashed Potatoes with Butternut Squash Recipe
Ingredients
1

pound (3 medium) yellow-flesh

potatoes,

cut into 3/4-inch chunks*

1

small

butternut squash

(about 1 pound), peeled, seeded and cut into 1-inch chunks

3

tablespoons

butter,

divided

8 to 10

fresh (2 to 3-inch)

sage

leaves, stacked and cut across into 1/4-inch strips

Approximately 1/2

cup

milk

Salt

and freshly-ground black pepper to taste
Instructions
In a 3-quart saucepan over high heat, add potatoes and squash chunks with water; add 1 teaspoon salt. Bring just to boil; reduce heat to medium, cover, and cook until tender, approximately 12 to 15 minutes.

In a small frying pan or saucepan, add 2 tablespoons of the butter and the sage. Tilting pan and watching closely, cook about 3 minutes, until butter foams and begins to brown; remove from heat and keep warm.

When potatoes and squash are cooked, remove from heat and thoroughly drain the water off.

Reduce heat to low, return pan with the drained potatoes and squash to burner, and shake 1 to 2 minutes; remove from heat.

Roughly mash with hand masher leaving mixture chunky. Gently mix in remaining 1 tablespoon butter and enough milk for consistency desired. Season with salt and pepper.

Spoon into a large serving bowl and drizzle with brown butter/sage mixture.

Makes 4 servings (about 4 cups).
Recipe Notes
* Butternut squash is easily found in supermarkets.  Beige colored and shaped like a vase or a bell.  This is a more watery squash and tastes somewhat similar to sweet potatoes.  It has a bulbous end and pale, creamy skin, with a choice, fine-textured, deep-orange flesh with a sweet, nutty flavor.  Some people say it is like butterscotch.  This squash weighs from 2 to 5 pounds.  The oranger the color, the riper, drier, and sweeter the squash.
Related Mashed Potato Recipes:
Perfect Mashed Potatoes
Garlic Mashed Potatoes
Make-Ahead Mashed Potatoes
Microwave Mashed Potatoes – 10 Minute Mashed Potatoes
Smashed Potatoes
Source:  Recipe and photo courtesy of the Potato Goodness Unearthed.
Comments and Reviews