Apricots with Mascarpone and Pistachio Recipe is an easy to make, tasty, and light appetizer.  You will find this appetizer recipe to be a definite keeper.  Excellent served with your favorite wine or to serve at a wine tasting.
This recipe combines the sweet full taste of apricots, Mascarpone cheese, and pistachios.  Apricots are small treasures of golden color that fit nicely in your palm.  They are a great treat that is sweet and full of flavor.  Apricots have been used in many cultures as a staple in cooking, drinks and medicine for centuries.
Mascarpone is an Italian cheese made from cream.  It is milky colored and spreads easily.  Sometimes mascarpone is used instead of butter or cheese.
Pistachios are just darn good!  They are a nut from the cashew family that grows on trees.  When they ripen the shells turn from green to a creamy color and split open with an audible pop.  The meat of the pistachio is green and used as an ingredient in many wonderful foods.
My neighbor, Roxanne Sienkiewicz, shared this Apricot with Mascarpone and Pistachio recipe with me.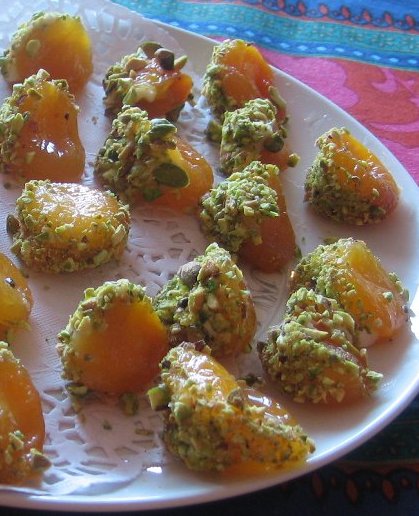 Apricots with Mascarpone and Pistachios Recipe:
Apricots with Mascarpone and Pistachios Recipe
Ingredients:
1 1/4 cups water
3/4 cup superfine sugar
Crushed seeds from 6 green cardamom pods
2 teaspoons fresh-squeezed lemon juice
8 ounces dried whole apricots (the soft, ready-to-eat kind)
1/2 cup mascarpone cheese (Italian cream cheese)*
1 cup chopped unsalted pistachios
* Cream cheese may be substituted if you cannot find mascarpone cheese.
Instructions:
In a saucepan over medium-high heat, bring water and sugar to a boil. Reduce heat to low, add the crushed cardamom seeds and lemon juice. Add the apricots and let them simmer for approximately 15 minutes or until they puff up. Remove pan from heat.
Using a slotted spoon, transfer the apricots to a baking sheet or large plate; let the apricots cool.
Finely chop the pistachios and place in a shallow bowl; set aside.
Using a small, sharp knife, cut a pocket in each apricot (they will already have a little hole from when the stone was removed, so just make it larger).
Using a small spoon or a pastry bag fitted with a plain tip, stuff each apricot with some mascarpone cheese. Dip stuffed apricots, cheesy side down, in the chopped pistachios.
Arrange on a platter and refrigerate until serving time. Bring to room temperature before serving.
Serves many.
https://whatscookingamerica.net/Appetizers/ApricotsMascarpone.htm
Source:  Recipe from the cookbook Small Bites by Jennifer Joyce.
Comments and Reviews