Butternut Squash Pizza is a delicious and healthy pizza.  Who would think to use butternut squash as the pizza sauce rather than the traditional tomato sauce?
The blend of sweet onions and feta over a thin crispy parmesan crust makes a gourmet pizza that everyone will enjoy.  The flavor is savory and has the feel of autumn.  If you grow your own butternut squash, it will hold well through the winter.  It is a great way to use your squash that you have in storage.  Try this recipe for butternut squash pizza next time you make one at home.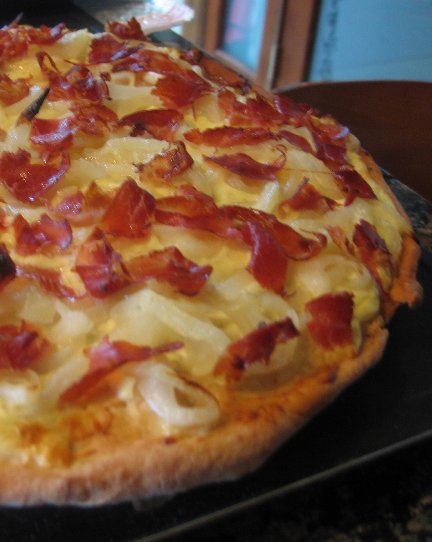 Instructional Video:  How to Make Pizza, Using Your Bread Machine
"
Bread Making Hints: Secrets to using the bread machine, About yeast in bread making, Sourdough Starter, Quick Breads.
More great Pizza Recipes and Bread Recipes for your bread making.
Check out our Hints and Tips for Making Perfect Pizza!
Butternut Squash Pizza with Bacon and Onions Recipe:
Keyword:
Butternut Squash Pizza with Bacon and Onions Recipe
Servings
:
2
(14-inch) pizzas or 1 (24-inch) pizza
Ingredients
Butternut Squash Pizza:
3

tablespoons

butter

1 to 2

large

sweet onion,

thinly sliced into rings

1/2

cup

goat cheese

or feta cheese, crumbled

2 to 3

slices

bacon,

crisp-cooked and crumbled
Parmesan Thin Crust Pizza Dough:
Butternut Squash Topping Sauce:
Instructions
Butternut Squash Pizza with Bacon and Onions Instructions:
Prepare Parmesan Thin Crust Pizza Dough according to recipe below.

Prepare Butternut Squash Topping Sauce according to recipe below.

When ready to assemble, preheat the oven and pizza stone or tiles to 450 degrees F.

In a large frying pan over low heat, melt butter. Add the onion rings and slowly saut stirring occasionally, until they are soft and just beginning to color, approximately 20 to 25 minutes. Remove from heat and set aside.

Spread the prepared Butternut Squash Topping Sauce mixture evenly over the surface of the pre-cooked pizza dough. Scatter the sautd sliced onions evenly over the topping. Scatter crumbled feta or goat cheese over the top. Scatter the crumbled bacon over the top of the feta or goat cheese.

Bake the pizza in the center of the oven until the crust is golden brown, the topping mixture is set, approximately 15 to 20 minutes.

Remove your pizza from the oven and allow to cool for 5 minutes before transferring to a serving pan. This cooling down step allows the crust to stay crisp and the topping to set. Once cool, cut your pizza into slice and serve.

Makes 2 (14-inch) pizzas or 1 (24-inch) pizza.

Parmesan Thin Crust Pizza Dough Instructions:
Add all the ingredients in the bread pan of your Bread Machine. Process according to manufacturer's instructions for a dough setting. It should form a nice elastic ball. If you think the dough is too moist, add additional flour (a tablespoon at a time). The same is true if the dough is looking dry and gnarly. Add warm water (a tablespoon at a time).

When dough cycle has finished, remove dough from pan and place into a lightly oiled bowl. Cover the bowl tightly with plastic wrap and let the dough do a slow rise for 24 hours in the refrigerator before using. Do not skip this step.

When ready to use, remove from refrigerator and allow the dough to come to room temperature, approximately 1 to 2 hours.

Meanwhile preheat the oven and Pizza Stone or tiles to 450 degrees F.

Turn the dough out onto a large surface and dust the pizza dough with flour. Pick up the dough and, keeping both hands together, grasp it lightly at the top of the edge. Letting gravity do the work, start rotating the dough as though you are turning the steering wheel of a car and don't stop until you've gone all the way around. This will stretch the dough without the risk of thinning out the center too much. Roll and stretch the dough out very thin to form a 24-inch or larger circle.

Place the dough on the prepared Peel. The dough should be docked. Thin pizza crusts usually need to be well docked to help control blistering and bubble formation during baking. This just means to prick it all over the middle part (not the edges) so that it does not inflate. Either use a Dough Docker or use a fork to prick the dough thoroughly.

Pre-cook the pizza crust for approximately 4 minutes before adding any toppings. After pre-cooking, remove the partially baked crust from the oven and pop any large air pockets with a fork. Let crust cool before topping (this will produce a crispy and chewy crust).

Butternut Squash Topping Sauce Instructions:
In a medium-size bowl, beat together the Butternut Squash Puree, ricotta cheese or cottage cheese, creme fraiche or sour cream, egg, salt, pepper, and nutmeg; set aside until ready to use.
Recipe Notes
* The amount of Parmesan cheese used will indicated how much water will need to be added.  I always seem to add more Parmesan cheese than the 1/2 cup water called for in the recipe.  Because of this, I always need to add the extra 1/2 cup water.  If you think you need to add additional water, add warm water, a tablespoon at a time).
Comments and Reviews