Blue Cheese Hazelnut Shortbread recipe is an easy to make and very delicious appetizer.  You can taste the distinctive, mild flavor of blue cheese in every bite of these savory rounds of shortbread.  The shortbread dough can be made it up to two days ahead.  Just roll the dough into cylinders, wrap, and then freeze.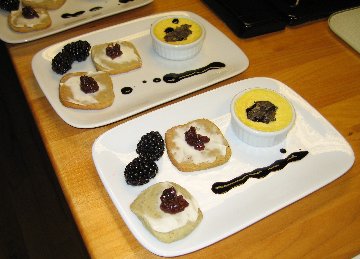 I served this wonderful Blue Cheese Hazelnuts Shortbread with my Truffle Custard at a wine tasting. I also topped with cream cheese and a dab of fig preserves.  So wonderful and so perfect with red wines!
Find more of LInda's delicious Appetizer Recipes.
Blue Cheese Hazelnut Shortbread Recipe:
Blue Cheese and Hazelnut Shortbread Recipe
Ingredients:
1 cup (8 ounces) crumbled Blue Cheese, room temperature
8 tablespoons (1/2 cup) unsalted butter, room temperature
1 cup all-purpose flour
1/2 cup cornstarch
1/2 teaspoon coarse salt
1/2 teaspoon black pepper
2/3 cup toasted hazelnuts, finely chopped*
1/2 cup cream cheese (optional)
* Toasted Hazelnuts: Preheat oven to 275 degrees F. Place shelled hazelnuts on a non-greased cookie sheet only one layer high. Place in oven for 20 to 30 minutes until the skins crack and the nut meat turn a light golden color. To remove more of the skin, pour the hot nuts onto a clean terry-cloth towel and wrap it closed. Let the nuts steam for 4 to 5 minutes then rub vigorously for 1 to 3 minutes. Rub longer to remove more skin.


Instructions:
In a food processor, combine crumbled blue cheese and butter; process until creamy.
Mix flour, cornstarch, salt, and pepper together in a small bowl. Add to blue cheese mixture, pulsing just to combine (until mixture resembles coarse meal). Add hazelnuts and process just until moist clumps form.
Transfer dough to a sheet of plastic wrap and work with your palm until dough holds together. Shape dough into a log (depending on the shape of shortbread you want, shape either into a round, square, or rectangular log). Wrap in plastic wrap and refrigerate at least one hour, but may be refrigerated long.
Preheat oven to 325 degrees F. Line baking sheet with parchment paper or a silpad. When ready to bake, slice approximately 1/4-inch thick and bake the shortbreads on prepared baking sheet. Bake on center oven rack let cool on racks.
NOTE: The shortbread can be prepared up to 3 days in advance and stored in airtight containers at room temperature.
When ready to serve, either serve plain or spread approximately 1/4 teaspoon cream cheese on top of each shortbread.
Makes 30 to 35 shortbreads.
https://whatscookingamerica.net/Appetizers/BlueCheeseShortbread.htm
Source:  Photo of sliced shortbread rounds from Ina Garten, Barefoot Contessa on Food Network.
Comments and Reviews