Categories:
Avocados
Chile Peppers
Guacamole
Southwest Recipes
Tomatoes
Chunky Guacamole Dip is my favorite guacamole recipe as it can be served as an appetizer or a salad with either corn or flour tortillas.
You can make this avocado salad smooth or chunky depending on your tastes.  I, personally, love chunky!  This guacamole recipe follows the traditional Mexican-style as the mixture must be chunky (never a puree), have a bite from fresh chilies or salsa, and be perfumed with fresh cilantro.
The question of the century is – do you prefer your guacamole chunky or mashed smooth?  I normally just make guacamole by tossing in the amount of ingredients I have in the house.  The Guacamole Dip recipe below is just an estimate of the ingredients used.  Feel free to add or delete what you want, but the recipe is great just as it is!  Chunky Guacamole does not keep well, so make it at the last moment before serving.  I have found that everyone likes to gather in my kitchen and either watch or help make this dip.
This guacamole recipe was shared with me by Marisela Reyna of Hillsboro, Oregon.
Learn all about Avocados and Avocado History.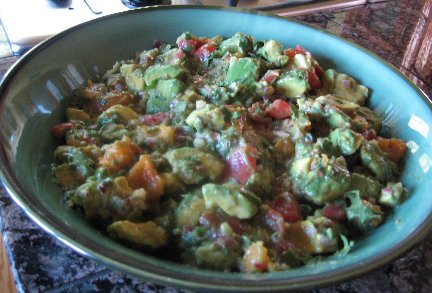 Chunky Guacamole Dip Recipe:
Chunky Guacamole Dip Recipe
Ingredients:
4 to 5 ripe avocados, peeled, seeded, and coarsely cut into 1/2-inch pieces
2 to 3 tablespoons fresh-squeezed lime juice (for sprinkling over the avocadoes after cut)
4 to 5 medium tomatoes, peeled, seeded and diced*
1/2 medium-size onion, finely minced
1 chile pepper of your choice, finely minced
Coarse salt to taste
1 bunch finely-chopped fresh cilantro
Corn Tortillas or Flour Tortillas (optional)
* Learn How To Peel Fresh Tomatoes.
Instructions:
To cut the avocado, place it in the palm of your hand and insert a sharp knife with a blade at least 2 inches longer than the avocado. Without moving the knife, roll the avocado around, slicing it top to bottom and back to the top. A gentle twist will separate the two halves of the avocado, exposing the meat and the seed inside.
To remove the seed, carefully "hit" the seed with the knife so it pierces it about 1/4 inch or so. Turn the knife with the seed, and it will come loose from the inner flesh so you can easily lift it up and out of the avocado. To remove the seed from your knife, pinch the seed by placing your fingers over the knife blade (blunt side) and squeeze as though you are pinching the end of the avocado. It should pop off from the knife and fall freely.

Score the inner meat with a butter knife both horizontally and laterally. These will be the cubes when the skin is turned towards inside out. If the avocado is ripe flesh should fall out as the skin is turned. Repeat this with the remaining avocados. Place the cubes into a medium sized bowl and sprinkle with the lime juice; set aside.
In a large bowl, combine tomatoes, onion, chile pepper, and salt. Gently stir in the avocado cubes and cilantro.
Guacamole is best served right after it is made. If you can not serve it immediately after making, cover with plastic wrap and refrigerate until ready to be served (can be stored in the refrigerator for up to 2 to 3 hours).
Let come to room temperature before serving. Serve as a salad or as a dip with corn or flour tortillas.
Makes a large batch to feed a lot of hungry people!


https://whatscookingamerica.net/Appetizers/ChunkyAvocadoSalad.htm
More Delicious Guacamole Dip Recipes:
Comments and Reviews