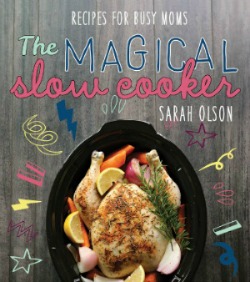 My daughter's and I were so excited to receive our foodie friend's new cookbook, Recipes For Busy Moms – The Magical Slow Cooker by Sarah Olson.  My youngest daughter became friends with Sarah through Facebook and we all recently met for the first time at the International Food Bloggers Conference in Seattle this past fall.  Sarah is a gracious lady and gifted cook.  As conference alumni, she showed us the ropes and we had the best time tasting all the wonderful food samples!
We could not wait to look over all of Sarah's slow cooker recipes and beautiful photos.  Each recipe provides easy to follow instructions with tempting food photography on every page.  At the beginning of the cookbook we found valuable slow cooker tips including ideas to help you prep your meal the night before cooking.  The back of the cookbook even provides helpful cooking and metric measurement equivalents.  It is a cookbook junkie's delight to read through the recipes and salivate over each dish.
As our tribute to Sarah, we decided to cook up and feature her recipe for "Garlic-Roasted One-Bite Potatoes".  We found the recipe easy to prepare and it is perfect side dish to contribute to a potluck or cook for a holiday meal.  This dish is especially convenient when you need to provide potatoes but you do not want to go through all the steps required to peel, boil and mash the potatoes.  Your guests will be very pleased with this recipe!  To view more of Sarah's slow cooker recipes, visit her blog, The Magical Slow Cooker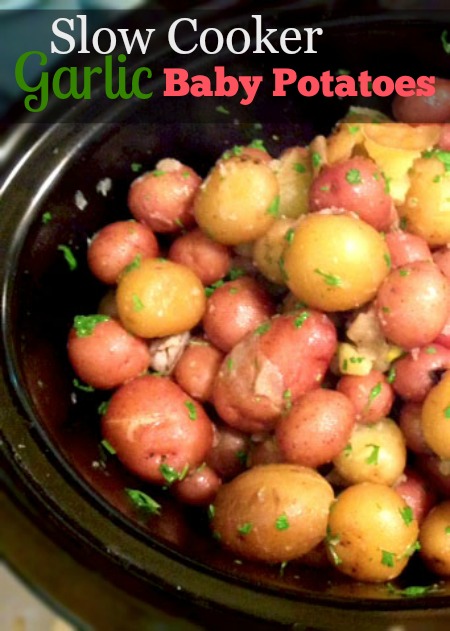 Slow Cooker Garlic Roasted Baby Potatoes Recipe:
Keyword:
Slow Cooker Garlic Roasted Baby Potatoes Recipe
Instructions
Preheat slow cooker on high heat.

Wash potatoes. Place potatoes and onions in slow cooker. Cover with enough chicken broth to cover potatoes. Cover with lid and cook on high heat for 3 hours or until tender. Drain liquid from potatoes

In a medium-sized bowl, mix together olive oil, garlic, and parley. Drizzle oil mixture over the potatoes and lightly toss until potatoes are evenly coated. Salt and pepper to taste.

Serve potatoes immediately. If it is needed to transport the cooked potatoes to a party, cover with lid to keep warm. Heat potatoes on warm heat setting on slow cooker or until ready to serve.
Recipe Notes
* Can substitute water to reduce sodium.
** Melted butter may be substituted.
*** If unable to find fresh herbs, substitute 1 tablespoon of dried basil or oregano.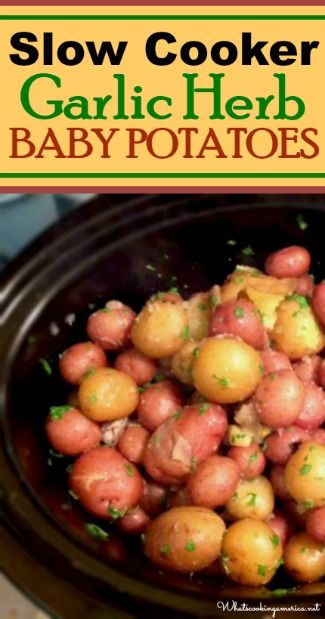 Comments and Reviews