Gorgonzola Cheesecake is an excellent and delicious appetizer to serve at your next gathering or special occasion. This is a grown-up version of your typical savory cheesecake.   A very distinctive and delicious appetizer!   I suggest you serve it with your favorite red wine.   This savory cheesecake will delight your family or guests and always makes a grand impression!  This cheesecake could serve as a cheese course for your dinner party with fresh fruit.
This cheesecake is really simple to make ahead of time to serve later as it can be made up to a week in advance and refrigerated.  I really love appetizers that can be made in advance as it saves time when you are ready to party!.
Please check out my Holiday Open House Menu which includes this delicious Gorgonzola Cheesecake.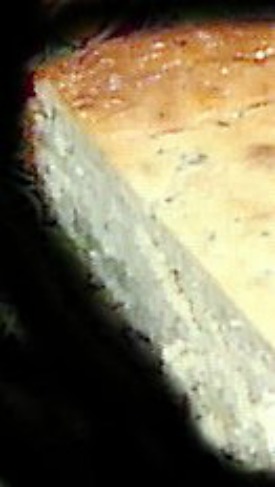 Gorgonzola Cheesecake Recipe:
Gorgonzola Cheesecake Recipe
Ingredients:
12 cloves garlic
2 teaspoons extra-virgin olive oil
Cornmeal Crust (see recipe below)
1 pound Gorgonzola Cheese, room temperature*
5 (8 ounce) packages cream cheese, room temperature
5 eggs, room temperature
* Blue Cheese may be substituted.
Instructions:
Preheat oven to 375 degrees F.
Roasted Garlic: Peel the outer skin of the garlic only; leave garlic bulb whole. Slice 1/2-inch of the pointed end of the garlic bulbs. Pour 1/2 teaspoon olive oil over the top of each bulb and let it sink in between the cloves. Wait 2 minutes and then repeat with another 1/2 teaspoon olive oil over each garlic bulb. Cover and bake 1 hour or until cloves are browned at the exposed end and soft throughout. Remove from oven. Allow garlic to cool and remove cloves from head. Garlic may be stored in a tightly covered container in the refrigerator for several days. Check out my web page on how to Roast Garlic.
Prepare Cornmeal Crust: (see recipe below)
To make filling: Preheat oven to 325 degrees F. and position baking rack in center of oven. In a large bowl, place gorgonzola cheese and cream cheese; mix together until smooth and creamy. Add the eggs, one at a time, while beating to incorporate. Pour the cheese filling into prepared Cornmeal Crust. Tap lightly on counter to remove air bubbles. Place roasted garlic cloves around the perimeter of the pan at equal distances.
Baking Cheesecake: Place cheesecake in center of middle oven rack. Bake for approximately 1 hour, or until internal temperature is 160 degrees with a cooking thermometer or until the center is almost set, but jiggles slightly when gently shaken.
NOTE: Do not open the oven door during the first 30 minutes of baking as drafts can cause a cheesecake to fall or crack. Remove from oven and allow to cool on counter for at least 1 hour, after which you may either serve or store in the refrigerator.
TThis is the type of cooking and meat thermometer that I prefer and use in my cooking. I get many readers asking what cooking/meat thermometer that I prefer and use in my cooking and baking. I, personally, use the Thermapen Thermometer shown in the photo on the right. Originally designed for professional users, the Super-Fast Thermapen Thermometer is used by chefs all over the world.
Serve warm or at room temperature with toasted baguette bread or crackers.
To serve later, store in refrigerator up to 1 week. To reheat, simply slice and warm for 5 minutes in a 350 degree F. oven.
Serves many.

Cornmeal Crust:
1 1/2 cups water
1/2 cup cornmeal
1 tablespoon minced garlic
1 1/2 teaspoons salt
1 tablespoons dried basil
1/4 cup grated Parmesan Cheese (Parmigiano-Reggiano)
Grease a 10-inch springform pan.
In a small saucepan over medium-high heat, bring water to a boil; stir in cornmeal, garlic, salt, and basil. Reduce heat to low and simmer, covered, for 15 minutes, stirring occasionally. Fold in parmesan cheese. Remove from heat and let cool 5 minutes.
Press warm cornmeal mixture onto the bottom of the prepared springform pan. Smooth the surface and set aside.


https://whatscookingamerica.net/Appetizers/GorgonzolaCheesecake.htm
Comments and Reviews