Michaels Button Mushrooms recipe is so incredibly delicious and so easy to make!  This is my favorite "go-to" recipe for special occasions and dinner parties, specially when I am serving perfect steaks.  I believe that mushrooms are the quintessential topping for all types of steaks.  Men go crazy over this combination.
Michaels Button Mushrooms can be ready in no time at all and efficiently brings out the delicious flavor of the mushrooms.  You can serve these sauteed and caramelized mushrooms over pasta, steak, mashed potatoes, or even as a very tasty appetizer as they are so versatile!  This mushrooms recipe is are definite "must make."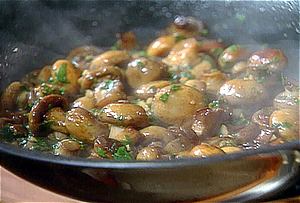 Michael's Button Mushrooms Recipe:
Michaels Button Mushrooms Recipe
Ingredients:
6 tablespoons extra-virgin olive oil
1-1/2 pounds whole small button mushrooms, cleaned*
3 tablespoons butter
Sea salt or coarse salt
1 tablespoon minced garlic
1-1/2 teaspoons fresh-chopped thyme leaves
2 tablespoons fresh-squeezed lemon juice
1/2 cup white wine
1 tablespoon chopped fresh Italian flat-leaf parsley
* Also know as white for common mushrooms. These mushrooms are also known as champignons de Paris by the French. These are the mushrooms sold at your grocery stores.
Instructions:
How To Clean Mushrooms: Mushrooms are extremely porous and soak up water like a sponge. This is because they are mostly water; never soak fresh mushrooms. Use a soft mushroom brush and simply brush away any clinging medium rather than washing with water. You may also wipe them with a damp paper towel. There is no need to peel mushrooms.
In a large skillet over high heat, heat the olive oil.
When the olive oil is hot, sprinkle the mushrooms in a single layer on the olive oil. NOTE: Do not move or stir the mushrooms until they have caramelized on the bottom, approximately 2 minutes. If you toss them too soon, they will release their liquid and begin to steam. When the bottoms are caramelized, toss them and continue to cook for approximately 5 minutes.
Add the butter and continue to cook and toss for and additional 3 to 5 minutes, until beautifully browned. Season with salt and pepper and add the garlic; saute another 2 minutes. Reduce heat to medium; add thyme leaves, lemon juice, and white wine. simmer to evaporate the liquid and until the mushrooms are glazed with the sauce.
Toss in the parsley, transfer to a warm bowl, and serve immediately.
Makes 4 servings.
https://whatscookingamerica.net/Appetizers/MichaelButtonMushrooms.htm
Source:  Recipe and photo by Michael Chiarello, Host of "Easy entertaining with Michael Chiarello" on the Food Network.
Comments and Reviews