Moroccan Lamb Burgers are served open-faced without any bread on top.  These mini lamb burger appetizers make a great finger finger food to serve at your next special occasion.  The point of the sauce is to be tangy and refreshing to contrast with the rich flavors of the lamb burgers.
This recipe was shared with me by Christi Thomas of Portland, Oregon. They are so delicious!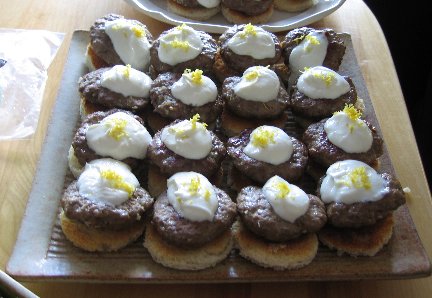 Moroccan Lamb Burgers with Lemon Yogurt Sauce Recipe:
Mini Moroccan Lamb Burgers With Lemon Yogurt Sauce Recipe
Ingredients:
2 pounds ground lamb
1/2 teaspoon ground cumin
1/2 teaspoon ground cinnamon
1/2 teaspoon ground coriander
1 teaspoon salt
About 20 grinds freshly-ground black pepper
2 cloves garlic, pressed or minced
1 loaf brioche or hearty artisan bread, cut in 1/2-inch slicesLemon
Yogurt Sauce (See recipe below)
Instructions:
Preheat the oven to 500 degrees F. or preheat barbecue grill and brush the grill with oil to keep the lamb burgers from sticking.
In a large bowl, combine ground lamb, cumin, cinnamon, coriander, salt, black pepper, and garlic in a mixing bowl and work together until they are fully incorporated.
Using your hands or a small ice cream scoop, roll or scoop the mixture into little balls about 1 to 1 1/2 inches big and place them on a parchment paper-lined baking pan. Using your hands, flatten burgers to about 1/2-inch thick and just a couple inches in diameter.
Bake or grill about 7 minutes, or until well-browned and cooked inside to the desired degree of doneness. Use a meat thermometer to test for doneness. (The USDA recommends 160 degrees F. on an instant-read thermometer.)
This is the type of cooking and meat thermometer that I prefer and use in my cooking. I get many readers asking what cooking/meat thermometer that I prefer and use in my cooking and baking. I, personally, use the Thermapen Thermometer shown in the photo on the right. Originally designed for professional users, the Super-Fast Thermapen Thermometer is used by chefs all over the world. To learn more about this excellent thermometer and to also purchase one (if you desire), just click on the underlined: Thermapen Thermometer.
Use a small glass (about 3 inches in diameter) to cut as many circles of sliced bread or brioche as you have burgers. Place the bread circles on a baking sheet. When the burgers come out of the oven, place the bread in the oven for just a couple of minutes to toast lightly. Watch the bread carefully or else it could get too dark very quickly. Remove from oven.
Place the cooked mini burgers on top of the toasted bread. Top with a dollop of the Lemon Yogurt Sauce and garnish with a good pinch of lemon zest.


Makes 15 servings.
Lemon Yogurt Sauce:
8 ounces plain yogurt (preferably Greek-style yogurt)*
1 tablespoon (1/2 lemon) fresh-squeezed lemon juice
Zest (rind) of 1/2 lemon
Lemon zest for garnish
Coarse salt
* Non-fat or low-fat yogurt may be substituted.
In a medium mixing bowl, stir together the yogurt, lemon zest, and lemon juice. Season, to taste, with a couple pinches of salt.
Sauce can be made ahead of time and refrigerated until ready to use. Bring to room temperature before using.
https://whatscookingamerica.net/Appetizers/MoroccanLambBurgers.htm
Source:  Moroccan Lamb Burger recipe has been adapted from the cookbook Dave's Dinners: A Fresh Approach to Home-Cooked Meals by Dave Lieberman.
Comments and Reviews