Roasted Butternut Squash with Cinnamon and Nutmeg is a very tasty side dish for your Autumn meals.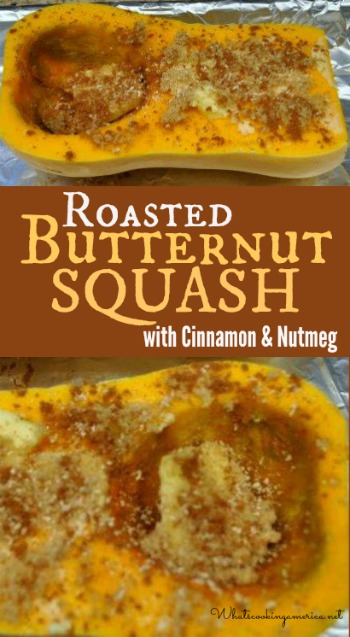 It is so convenient to eat using a spoon to scoop the soft squash right out of the skin.  The combination of butter, brown sugar and spices caramelize together while roasting in the oven, and you can also inhale the warm aromas in the kitchen.  This Fall side dish is nice served with grilled pork chops, homemade applesauce, and coleslaw.
Butternut Squash is easily found in supermarkets.  Beige colored and shaped like a vase or a bell.  This is a more watery squash and tastes somewhat similar to sweet potatoes.  It has a bulbous end and pale, creamy skin, with a choice, fine-textured, deep-orange flesh with a sweet, nutty flavor.  Some people say it is like butterscotch.  It weighs from 2 to 5 pounds.  The oranger the color, the riper, drier, and sweeter the squash.  Butternut is a common squash used in making soup because it tends not to be stringy.
This very easy-to-make Roasted Butternut Squash with Cinnamon and Nutmeg recipe, comments, and photo were shared with me by Karen Calanchini, Food Stylist, and Photographer, of Redding, CA.
Roasted Butternut Squash with Cinnamon and Nutmeg Recipe:
Keyword:
Roasted Butternut Squash with Cinnamon and Nutmeg Recipe
Ingredients
1

small

butternut squash

(about 6 to 7 inches long), halved lengthwise

2

tablespoons

butter

Ground Cinnamon

Ground Nutmeg
Instructions
Preheat oven to 425 degrees F. Line a small baking sheet with non-stick aluminum boil.

Slice the stem off the top of the butternut squash and cut each squash in half lengthwise. Scoop out seeds, membranes, and discard.

Lay the squash halves on the prepared baking sheet. Spread 1 tablespoon butter on each of the squash halves (on top of the squash half and in the cavity). Sprinkle as much brown sugar, cinnamon, and nutmeg over the top of the butter that you desire.

Cover the prepared squash with another sheet of aluminum foil, folding edges tightly over the edges of the baking sheet.

Place in oven and cook for approximately 30 minutes. Remove the aluminum foil and cook approximately an additional 10 minutes until the squash is tender when pierced with a fork. Remove from oven.
Comments and Reviews