Categories:
Chips, Crisps and Crackers
Hummus Appetizers
Pumpkin
Squash & Zucchini Appetizers
This Pumpkin Hummus with Pita Chips recipe is a nice change of pace from the usual hummus.  Pumpkin Hummus has delicious Fall flavors!  This delicious hummus is packed with nutrition featuring healthy fresh pumpkin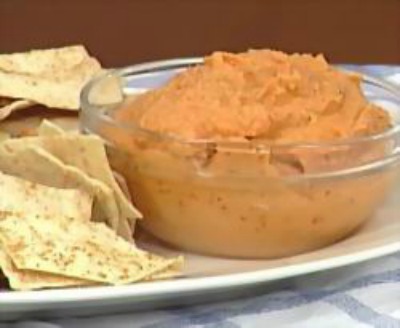 Pumpkin Hummus with Pita Chips Recipe:
Pumpkin Hummus with Pita Chips Recipe
Ingredients:
6 (6-inch) pitas, each cut into 8 wedges
2 tablespoons tahini*
2 tablespoons fresh-squeezed lemon juice
1 teaspoon ground cumin
1 teaspoon olive oil
3/4 teaspoon salt
1/8 teaspoon ground red pepper
1 (15-ounce) can pumpkin puree
1 garlic clove, chopped
2 tablespoons chopped fresh flat-leaf parsley
1 tablespoon pumpkin seed kernels, toasted (optional)
* Tahini is a key ingredient in hummus, the traditional Middle Eastern chickpea spread. Look for the lightest colored raw Tahini you can find when making any hummus recipe. When you open the can or jar of tahini, you will see that the oil has separated and risen to the top. You must stir before using to even out the consistency. Depending on the brand of your Tahini and your taste, you might need to add little less or more Tahini. If necessary, start with less than 1/4 cup (like 2 to 3 tablespoons) and gradually adjust accordingly.
To purchase Sesame Tahini, check out What's Cooking America's Cooking Store.
Instructions:
Preheat oven to 425 degrees F.
Place pita wedges on baking sheets; coat with cooking spray. Bake at 425 degrees for 6 minutes or until toasted. Remove from oven and set aside.
Place tahini, lemon juice, cumin, olive oil, salt, red pepper, pumpkin puree, garlic in a food processor or blender, and process until smooth. Add parsley; pulse until blended. Spoon hummus into a serving bowl; sprinkle with pumpkin seed kernels, if desired. Serve with pita wedges.
NOTE: Can be prepare up to a day ahead and refrigerate.
Makes about 2 cups.
https://whatscookingamerica.net/Appetizers/PumpkinHummus.htm
Source:  This recipe for Pumpkin Hummus is from the Cooking Light Magazine, November 2005
Comments and Reviews