Roasted Chile Pepper and Tomatillo Salsa is for people who like very hot salsa!  So good and so addicting!  This is basically a spicy Salsa Verde recipe that highlights the roasted chile peppers.
My garden had an over abundance of chile peppers and tomatillos this year.  I roasted all of then in my oven to create this fiery hot Salsa.  This salsa can be eaten as a dip or condiment with tortilla chips and tacos, used as enchilada sauce, or added for a flavorful boost to carnitas or soups and chili.  This is my absolute go-to recipe for salsa verde recipe.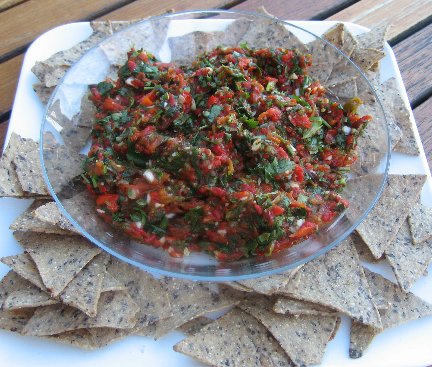 Roasted Chile Pepper and Tomatillo Salsa Recipe:
Roasted Chile Pepper and Tomatillo Salsa Recipe
Ingredients:
6 to 10 chile peppers of your choice (such as poblano, jalapeno, serrano, etc.)*
10 medium tomatillos
1 bunch green onions
6 cloves garlic, minced
1/2 teaspoon coriander seeds, toasted and crushed**
Juice of 1 to 2 limes (according to your taste)
1/2 bunch cilantro, finely chopped
Coarse salt, to taste
Corn chips
* How hot you make your salsa depends on the kind of chilies and the amount you use.
** To lightly toast coriander seeds, cook them in a small dry skillet over medium heat until the aroma is released. Crush with a mortar and pestle or seal in a plastic bag and crush with a heavy pan.
Instructions:
Toasting Coriander Seeds

Using Mortar and Pestle

Fresh Tomatillos

Remove the husks before using (the husks are inedible), and rinse under running water before using as the tomatillo is covered by a sticky substance.
Preheat the broiler of your oven. Wash and dry the chile peppers. Remove husks from tomatillos; wash and pat dry. Place chili peppers and tomatillos on a baking sheet; broil 3 to 5 minutes each side until blackened. Remove from oven. Set hot tomatillos aside. Place the hot chile peppers in a bowl, cover with plastic wrap or an airtight lid, and allow to steam for 10 minutes. After 10 minutes, remove chile peppers. Using a sharp knife, remove stems, skins and seeds.
Warning: Always wear gloves when working with hot chile peppers (fresh, dried or roasted chiles). Never touch your eyes when working with chiles. Please do not learn this lesson the hard way!

Fresh Chili Peppers - I use whatever variety of chili peppers that I have available.

Roasted Chili Peppers

Steaming Chili Peppers

Seeded and Skinned Peppers
Roughly chop tomatillos, chile peppers and green onions. Place in food processor or blender and add garlic and toasted coriander seeds. Pulse until uniform in texture, but not pureed. Stir in lime juice, cilantro, and salt, to taste.
Serve with corn chips, tortillas, tacos, burritos, tostadas, etc.
Store in refrigerator for up to 2 weeks.
To freeze, transfer salsa to freezer-safe containers and freeze for up to 6 months. Allow at least 1/2-inch headspace for expansion when frozen.
Serves Many.
https://whatscookingamerica.net/Appetizers/RoastedPepperSalsa.htm
Comments and Reviews