Savory Herbed Cheesecake has an elegant, crisp Parmesan and rosemary crust which makes a pleasant complimentary flavor.
This savory herbed cheesecake is a good choice for an appetizer for a cocktail buffet party.  It is impressive served whole on the buffet table.  You can also serve it cut into wedges on individual plates as a starter course.  Also excellent served with wine.
You can prepare and bake cheesecake up to 1 week ahead of time and refrigerate.  Yes – you can freeze cheesecakes.  I do it all the time.  I have frozen them over a month and they were great! This is the wonderful thing about cheesecakes, is that you can freeze them ahead and use later. Freezing for more than a month is not recommended to retain the best quality.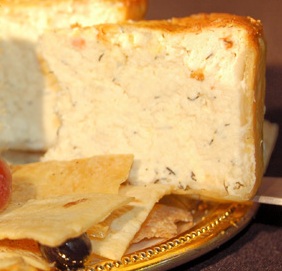 Savory Herbed Cheesecake Recipe:
Savory Herbed Cheesecake Recipe
Ingredients:
Parmiginao-Reggiano Crust (see recipe below)
Herb Filling (see recipe below)
Instructions:
Preheat the oven to 350 F. Prepare Parmigiano-Reggiano Crust. Prepare Herb Filling.
Pour the cheesecake batter into the chilled Parmigiano-Reggiano Crust. Line a baking pan with aluminum foil and set 9-inch Springform Pan on top of the foil (to catch any drips). Using the additional herbs and vegetables, float a design on top of the batter.
Place the cheesecake in the oven and bake for about 45 minutes. When done, the cake will have risen and the center will be almost set. Turn the oven off and allow the cheesecake to remain in the oven for 1 hour longer, without opening the door. Don't worry if the cake is cracked. Remove the cheesecake and set it on a rack to cool for 1 1/2 hours.
When cool, remove the outer ring of the springform pan. Loosen the cheesecake from the bottom of the pan, using a knife, and slide it onto a serving plate.
Serve at room temperature, or cover with plastic wrap and refrigerate overnight. Remove the cheesecake from the refrigerator at least 2 hours before serving and allow it to come to room temperature . If desired, decorate the top of the cheesecake using herbs and or vegetables.
Makes 12 servings.

Parmigiano-Reggiano Crust:
4 ounces grated Parmesan Cheese (Parmigiano-Reggiano)
1 cup dried bread crumbs*
1/2 teaspoon minced fresh rosemary
1/3 cup unsalted butter, melted (5 tablespoons)
* Check out Making Homemade Bread Crumbs.
Mix Parmigiano-Reggiano, bread crumbs, rosemary and butter in a small bowl. Press the mixture into the bottom and up the sides of the springform pan.
Herb Filling:
10 cloves garlic, unpeeled
1/3 cup extra-virgin olive oil
1 1/2 pounds cream cheese, softened (three 8-ounce packages)
8 ounces creme fraiche or sour cream (1 cup)
3 eggs
3 tablespoons all-purpose flour
1 teaspoon salt, plus extra to taste
2 tablespoons minced fresh flat-leaf (Italian) parsley
1 tablespoon minced fresh chervil
1 tablespoon minced fresh basil
1 tablespoon minced fresh oregano
1 tablespoon minced fresh sage
1/3 cup finely-diced red bell pepper
1/3 cup finely-diced carrot
Freshly-ground black pepper to taste
2 egg whites, at room temperature
Additional herbs and/or vegetables, for decoration
Place the unpeeled cloves of garlic in a small ramekin or ovenproof dish and drizzle with the olive oil. Bake, uncovered, for 10 to 15 minutes, or until soft when tested with the tip of a knife. Remove and set aside to cool slightly. Reduce the oven temperature to 325 degrees F.
Squeeze the roasted garlic out of the skins and mash or chop the garlic, along with the olive oil, to a puree. Combine the garlic puree, cream cheese, creme fraiche, eggs, flour and salt in the work bowl of a food processor fitted with a steel blade. Process for 2 minutes. Add the parsley, chervil, basil, oregano, and sage; process for 1 minute. Pour the cream cheese mixture into a large bowl. Stir in the red bell pepper and carrot. Season with salt and pepper to taste.
In a clean bowl, beat the egg whites until soft peaks form. Blend a spoonful of egg whites into the cream cheese mixture, then gently fold in the remaining egg whites.
https://whatscookingamerica.net/Appetizers/SavoryHerbedCheesecake.htm
Source:  This fantastic Savory Herbed Cheesecake recipe is from the cookbook The Cheese Lover's Cookbook and Guide by Paula Lambert.  Photo from The Nibble online magazine.
Comments and Reviews