This Hot Shrimp Scampi Dip is fabulous and sure to impress your family and guests.  This is one of my "fall back to" appetizer recipes.  It is so simple to make and so delicious!
This shrimp appetizer recipe was shared with me by my friend, Karen Calanchini of Redding, California.  A perfect dip to serve to guests year round for holiday gatherings and summertime festivities!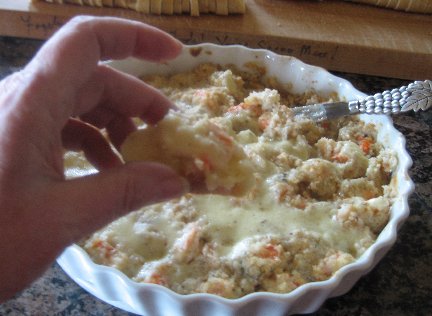 Hot Shrimp Scampi Dip Recipe:
Hot Shrimp Scampi Dip Recipe
Ingredients:
2 pounds uncooked extra-large shrimp, shelled and deveined or frozen shrimp, thawed
1 teaspoon coarse salt
1/2 teaspoon pepper
5 tablespoons freshly-squeezed lemon juice
4 cloves garlic, minced
5 tablespoon mayonnaise
1 1/2 cups dry bread crumbs*
1 teaspoon crushed dried basil leaves, optional
1 teaspoon dried dill weed
1/2 cup melted butter
4 tablespoons extra-virgin olive oil
* Check out Making Homemade Bread Crumbs. I like to use coarse bread crumbs in this recipe.
Instructions:
In a medium bowl, combine salt, pepper, lemon juice, garlic, and mayonnaise; stir until well blended. Place shrimp in a large resealable plastic bag, pour marinade over shrimp and close bag. Marinate in the refrigerator several hours or overnight. Remove from refrigerator; drain, reserving marinade in a bowl.
Preheat oven to 400 degrees F.
In a medium bowl, combine bread crumbs, basil, and dill. Coat each shrimp with crumbs and place in a single layer in a large shallow baking dish.
To remaining marinade, add melted butter and olive oil; pour over shrimp. Bake for 8 to 10 minutes or until opaque in center (cut to test). Remove from oven.
Serve with individual serving plates. Also great served with sliced baguette bread.
Makes 6 to 8 servings.
https://whatscookingamerica.net/Appetizers/ShrimpSupreme.htm
Comments and Reviews