Smoky Chipotle Hummus recipe is a fun twist on traditional hummus recipes.  The chipotle pepper lend a bit of heat and smokiness, while the cilantro brightens the flavor.  Perfect for entertaining your family and friends.  Serve with pita chips and fresh vegetables.
Chipotle chiles are dried, smoked jalapenos canned in a spicy tomato sauce, which is sometimes called adobo sauce.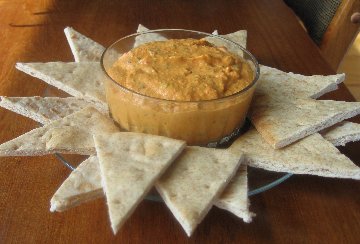 Smoky Chipotle Hummus Recipe:
Smoky Chipotle Hummus Recipe
Ingredients:
2 (15-ounce) cans garbanzo beans (chickpeas), drained
1/2 cup water
1/4 cup plus 2 tablespoons tahini (sesame seed paste)*
1/4 cup fresh-squeezed lemon juice
2 tablespoons olive oil
2 to 2 1/2 teaspoons minced canned chipotle chilies**
2 garlic cloves, minced
1 1/2 teaspoons ground cumin
1 (7 ounce) jar roasted red bell peppers, drained
1/3 cup chopped fresh cilantro leaves***
Coarse salt and freshly-ground black pepper to taste
* Tahini is a key ingredient in hummus, the traditional Middle Eastern chickpea spread. Look for the lightest colored raw Tahini you can find when making any hummus recipe. When you open the can or jar of tahini, you will see that the oil has separated and risen to the top. You must stir before using to even out the consistency. Depending on the brand of your Tahini and your taste, you might need to add little less or more Tahini. If necessary, start with less than 1/4 cup (like 2 to 3 tablespoons) and gradually adjust accordingly. To purchase Sesame Tahini, check out What's Cooking America's Cooking Store.
** Chipotle chiles are dried, smoked jalapenos canned in a spicy tomato sauce, which is sometimes called adobo sauce. They are available in your grocery store in the Latin section.
*** Can substitute basil leaves.
Instructions:
Preparation:
Place all the ingredients in a food processor or blender (except cilantro leaves, salt, and pepper), and process until smooth. NOTE: If the consistency is too thick, add additional water.
Transfer hummus to bowl and stir in cilantro leaves. Season hummus to taste with salt and pepper.
Cover and refrigerate for several hours before serving.
Before serving, remove from refrigerator 1/2 hour before serving. Can be made one day ahead.
Accompany with pita bread or bagel chips.
Makes about 3 cups.
https://whatscookingamerica.net/Appetizers/SmokyChipotleHummus.htm
Source:  I slightly adapted this Smoky Chipotle Hummus recipe from Bon Appetit magazine, October 2001.
Comments and Reviews