Avocado Olive Dip is absolutely wonderful!  If you like guacamole, you will love this dip.  If you like olives, you will love this dip.  What can I say; you will love this Avocado Olive dip!
The recipe is very similar to Guacamole with the typical, guacamole ingredients.  Avocado of course, peppers, onion, tomato, garlic etc.  Instead of a chunky texture, this dip will be smooth.   It is also a forgiving recipe; if you do not have an ingredient, do not worry.  Head to the cupboard and add ingredients to taste.  Go ahead and be creative.  Your guests will go wild over it.
You can choose to serve this dip either chunky or smooth – it is up to you!  For a smooth dip, process in your food processor.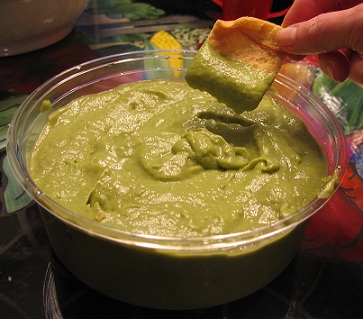 Avocado Olive Dip Recipe:
Ingredients:
3 avocados, peeled, seeded, and mashed
1 can black olives, drained and thinly sliced or mashed (your choice)
1 (4-ounce) can chile peppers or fresh jalapeno peppers (medium to hot)
7 to 8 small green onions, chopped
3 large tomatoes (or 5 small), peeled, seeded, and chopped*
3 to 4 cloves garlic, minced
6 tablespoons extra-virgin olive oil
2 tablespoons fresh-squeezed lemon juice
5 to 6 fresh basil leaves, finely chopped
* Learn how easy it is to Peel Fresh Tomatoes
Instructions:
In a large bowl, combine all the ingredients. NOTE: For a smooth texture, process in your food processor.
Refrigerate at least 2 hours for flavors to blend.
Excellent served with corn chips.
Serves many.
https://whatscookingamerica.net/Appetizers/avocadodip.htm
Comments and Reviews