My Mom makes the best ever apple pie and it is truly a delight!  
This is the perfect recipe for apple pie for anyone who wants an old-fashioned, tasting pie with a flaky crust.  This is my Mother's, Dorothy Hagerman, recipe that I am sharing with all of you.  I have enjoyed many slices of my Mom's pie over the years.  One of my fond memories is when she sprinkle left over bits of pie crust with cinnamon and sugar and roll into mini cinnamon rolls.  We loved enjoying those bonus treats since it was hard to wait to dinner time to enjoy the pie.  Go ahead and impress your family and friends.
Check out more great Pie Recipes and learn about the history of Apple Pie.
Please check out my Old-Fashioned 4th of July Picnic menu which includes our family's favorite Grandma Hagerman's Apple Pie.
We had Grandma Hagerman show us how to make her pie for What's Cooking America several years a go.  The video is a "hoot"!
Mom's Apple Pie Recipe – Classic Apple Pie:
Mom's Apple Pie Recipe - Classic Apple PIe
Ingredients:
Pastry for 9-inch two crust pie
3/4 cup granulated sugar
1 teaspoon ground cinnamon
1/8 teaspoon ground nutmeg
1/8 teaspoon ground cloves
5 to 6 medium (2 pounds) green tart cooking apples*
2 tablespoons butter, cut into small pieces
1 to 2 tablespoons milk
1 tablespoon granulated sugar
* Choose cooking apples on the tart side, such as Granny Smith, Jonagold, or Macintosh apples.
Instructions:
Preheat oven to 400 degrees F. Prepare pie pastry.
In a large bowl, combine sugar, cinnamon, nutmeg, and cloves; set aside.
Peel, core, and slice apples approximately 1/4-inch thick. Toss apple slices in sugar mixture until well coated.
Spoon apple filling into pastry-lined pie plate and dot with butter. Cover with remaining pastry and flute. Cut slits in pastry so stream can escape. Brush milk over top and then sprinkle 1 tablespoon sugar onto top of pie crust.
Bake 45 to 50 minutes or until the internal temperature registers approximately 175 degrees F. on your cooking thermometer and the crust is golden brown and apples are tender.
Remove from oven and cool on a wire rack before cutting and serving.
Serve warm or at room temperature.
Makes 8 servings.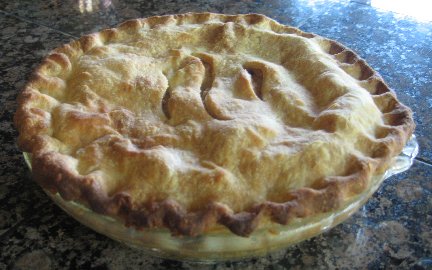 https://whatscookingamerica.net/ApplePie.htm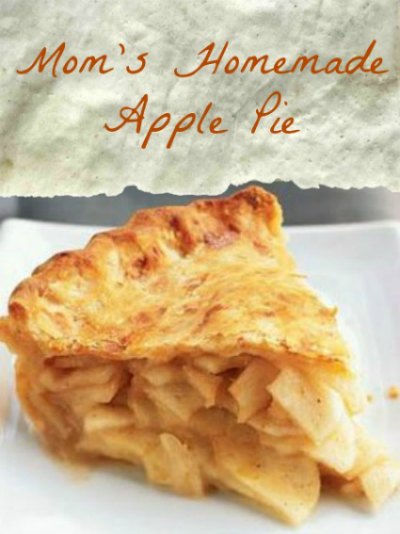 Additional Favorite Recipes Using Apples:

Apple Bake
This is a very easy-to-make recipe.  One that you can do at the last minute!  I love my cast-iron pans, and I'm always trying out new recipes in them.
Apple Dumplings
My mother used to make these for our family when I was young.  My father loved these dumplings, and they were such a favorite for our family that we would make a whole meal of these dumplings.
Lemon Pecan Apple Crisp
I love the taste of apples and lemons together.  The added punch of lemon zest and the pecans gives this apple crisp a unique flavor.
Zesty Orange Pecan Apple Crisp
A wonderful time of year for cooking with apples, and this dessert or breakfast dish will hit the spot on those cool, crisp days.
Comments and Reviews