Low fat chimichanga recipe is a delicious meal and is also low in calories.  Chimichanga is excellent to make for a family dinner or prepare them for a party.  This recipe is a healthier version of chimichanga as they are oven-baked instead of deep fried.  Even though they are not fried, they are still Crispy and delicious.
This low fat chimichanga recipe and photo were shared with my by Karen Calanchini, Food Stylist and Photographer, of Redding, CA.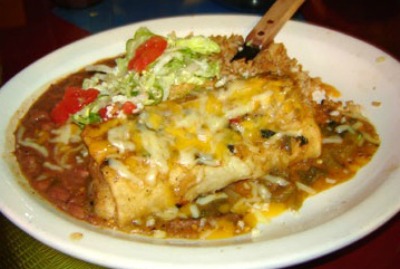 For more great Low Fat Recipes, Low Calorie Recipes, Low Carbohydrate recipes, and Diabetic Recipes, check out my Diet Recipe Index.  Also check out my Nutritional Chart for fat grams, fiber grams, and calories for all your favorite foods.at grams, fiber grams, and calories for all your favorite foods.
Check out all of Linda's Beef Recipes using various cuts of beef.
Low Fat Chimichanga Recipe:
Low Fat Chimichanga Recipe
Ingredients:
1/2 pound lean ground beef (hamburger)
1 (15-ounce) can fat-free refried beans
1 cup prepared salsa
1 (4 1/2 ounce) can green chile peppers
4 cloves garlic, minced
1 teaspoons chili powder
3 tablespoons diced sweet onion
8 flour or wheat low-fat tortillas
1 cup shredded non-fat Jalapeno Jack cheese
1/2 cup fat-free sour cream
Additional salsa
Instructions:
Preheat oven to 350 degrees F. Coat a 13x9-inch baking dish with vegetable spray.
In a large frying pan over medium heat, brown ground beef; add refried beans, salsa, chile peppers, chili powder, and onion; cook until heated through. Stir in Jalapeno Jack cheese.
Wrap tortillas in paper toweling and warm in microwave. Spoon 1/2 cup of beef mixture onto each tortillas. Fold in sides and roll up. Place in prepared baking dish.
Bake, uncovered, approximately 20 minutes or until crisp and golden.
Remove from oven and serve with additional salsa and sour cream.
https://whatscookingamerica.net/Beef/Chimichanga.htm
Comments and Reviews