Make the Most Out of Pressure Cooking a Whole Chicken
Easy Instant Pot Whole Chicken Recipes
Learn essential and easy Instant Pot whole chicken recipes to make several delicious meals from just one whole chicken.  We will walk you through recipes and instructions on how to cook a whole chicken from fresh or frozen in the Instant Pot Pressure Cooker for several meals and use the leftover bones to make Chicken Bone Broth.  Combine them both for a warm, comforting pot of Chicken Noodle Soup.
The meat from the chicken can be pulled from the bones so you can have shredded chicken to use in 2-3 other meals for your family.  Then the meat drippings and leftover chicken bones can be placed back in the Instant Pot with water and vegetables to pressure cook a nutrient-rich chicken bone broth soup or chicken stock.  Exquisite to use as a base for comforting soups and other delicious recipes.  Once you have that bone broth cooked up and strained, add back some chicken meat, onions, carrots, celery and noodles to the pot and you can now quickly make the ultimate Chicken Noodle Soup in the Instant Pot that your family will love!  These are truly recipes made with love!
Find more Instant Pot Pressure Cooker recipes and check out more outstanding soup recipes.
Another great Instant Pot soup recipe using a whole chicken is Traditional Jewish Chicken Soup.
Step 1:  Pressure Cook a Whole Chicken in the Instant Pot

Simple to cook a fresh or frozen chicken in the Instant Pot that is finished in half the time of a roasted chicken
Step 2: Pressure Cook Chicken Bone Broth or Chicken Stock in the Instant Pot
Use the leftover juices and bones from the whole cooked chicken along with vegetables to make a healthy chicken bone broth full of vitamins and minerals that are good for what ails you.
Step 3: Pressure Cook Chicken Noodle Soup in the Instant Pot
Add some of the shredded chicken meat, bone broth or chicken stock to the pot. Then throw in some chopped fresh vegetables and noodles to make Chicken Noodle Soup with love. It doesn't get any better!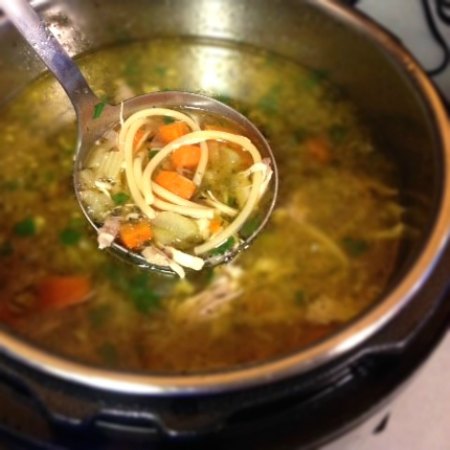 This is the type of pressure cooker that I prefer to use in my cooking:  I get readers asking which electric pressure cooker brand I prefer to use for cooking. I personally use the Instant Pot Multi-Use Pressure Cooker.  I love having 7 cooking functions in one space-saving appliance – Pressure Cooker, Slow Cooker, Rice Cooker, Saute Pan, Steamer, Yogurt Maker and Warmer.
Learn more tips on How to Use an Instant Pot Pressure Cooker.
Comments and Reviews