Grilled Beef Tenderloin Steak in Cabernet Sauce recipe is featured at The Magnolia Grill Restaurant located in Durham, North Carolina.  Every dish served at this wonderful restaurant is outstanding!  My husband and I loved this steak entree.
I know the below photo of the steak is a T-Bone steak and not a tenderloin, but you can use any type of steak that you like, and this is what I used when I cooked this steak.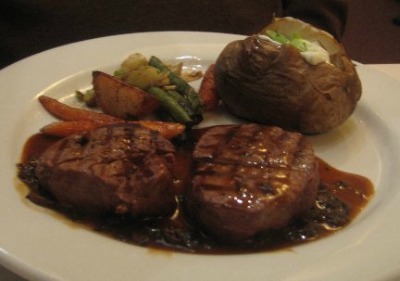 Grilled Beef Tenderloin Steaks in Cabernet Sauce Recipe:
Grilled Beef Tenderloin Steaks in Cabernet Sauce Recipe
Ingredients:
6 beef Filet Mignon (Beef Tenderloin) or T-bone steaks (approximately 7 ounces each), trimmed*
2 tablespoons good-quality balsamic vinegar
2 cloves garlic, crushed
4 sprigs rosemary, bruised
1/4 cup olive oil
1 teaspoon coarsely cracked black peppercorns
Cabernet Sauce (see recipe below)
2 tablespoons chive batons, cut 1-inch in length (for garnish)
* Check out Types of Steaks and Cooking Techniques for the Perfect Steak.
Instructions:
In a bowl or large resealable plastic bag, combine balsamic vinegar, garlic, rosemary, olive oil, and peppercorns; place steaks in the plastic bag or covered dish. Refrigerate 3 to 4 hours or overnight.
Prepare Cabernet Sauce; set aside.
Remove steaks from refrigeration 1 hour before cooking and wipe excess marinade off the steaks. When you are ready to grill, preheat barbecue grill. Place steaks onto hot grill and grill to the desired degree of doneness, about 3 to 4 minutes on each side for medium rare. Your steak is done when the internal temperature registers 120 to 130 degrees F. on your instant-read meat thermometer:
Rare - 120 degrees F
Medium Rare - 125 degrees F
Medium - 130 degrees F
What constitutes rare and medium-rare cooked meat? To satisfy government home economists, the Beef Council says rare beef means an internal temperature of 140 degrees F. Well, that is ok if you like well-done and dry meat. If you like moist, rosy meat (like I do), rare begins when the internal temperature registers 120 degrees F. and starts to become medium rare at 125 or 130 degrees F. To cook your meat properly, you must purchase and use a good instant-read digital meat thermometer.

This is the type of cooking and meat thermometer that I prefer and use in my cooking. I get many readers asking what cooking/meat thermometer that I prefer and use in my cooking and baking. I, personally, use the Thermapen Thermometer shown in the photo on the right. To learn more about this excellent thermometer and to also purchase one (if you desire), just click on the underlined: Thermapen Thermometer.
When the steaks are crusty-charred and done to your liking, remove from the grill and let sit 15 minutes before serving (meat temperature will rise 5 to 10 degrees after it is removed from the oven).
Pour any juices from the steaks into the prepared Cabernet Sauce; spoon the sauce over and around the steaks on individual serving plates. Sprinkle with chive batons and serve immediately.
Makes 6 servings.

Cabernet Sauce:
1 cup onion, chopped into 1-inch pieces
1/2 cup carrot, chopped into 1-inch pieces
1/2 cup celery, chopped into 1-inch pieces
1/4 cup olive oil
6 cloves garlic, crushed
2 bay leaves
2 tablespoons tomato paste
1/4 cup good-quality Balsamic Vinegar
1/4 cup red wine vinegar
2 cups red wine (preferably Cabernet wine)
1 1/2 quarts veal stock or chicken stock
Salt and black pepper to taste
In a heavy-bottomed pot, cook the onions, carrots, and celery in olive oil over medium heat until well browned. Add the garlic, bay leaves, and tomato paste; cook 1 minute, stirring. Add the vinegars and wine, bring to a boil, and simmer until reduced by two-thirds. Add the veal or chicken stock, bring to a boil, and simmer, skimming occasionally, until reduced by two-thirds. Strain through a fine-mesh strainer. Cool and refrigerate if not using immediately.
Return the sauce to the heat and simmer until it lightly coats the back of a spoon. Season with salt and pepper and keep warm.
https://whatscookingamerica.net/Beef/MagnoliaGrillTenderloin.htm
Source:  Grilled Beef Tenderloin Steak Recipe from Not Afraid of Flavor, Recipes From Magnolia Grill, by Ben and Karen Barker (University of North Carolina Press).
Additional Outstanding Steak Recipes:
Beef Tenderloin Steaks Stuffed with Morels
Cabernet-Cherry Filet Mignon
Cabernet Filet Mignon
Chipotle Grilled Filets
Grilled Filet Mignon or T-Bone Steaks
Peppered Top Sirloin Steak
Steak Diane
Individual Beef Wellingtons witn Peppercorn Sauce
Comments and Reviews