Ice Cream Hot Buttered Rum Mix

Enjoy a cup of holiday cheer made with this festive Hot Buttered Rum Mix Recipe.  Guaranteed to lift one's spirit!
Instead of buying expensive Hot Buttered Rum mixes, how about making your own?  Making your own will definitely taste better!  The addition of ice cream makes for a delicious ultra-rich and creamy drink.  Because of the ice cream, you can store the batch in the freezer and enjoy one cup at a time.  Just add a dollop of the prepared batter to your mug with some hot water and rum.  This delicious drink can also be enjoyed without the rum.
My mother always kept a batch of this Hot Buttered Rum mix in her freezer to use during the holiday season.  What could be better on a cold winter night?   It may not be low calories, but it is so good!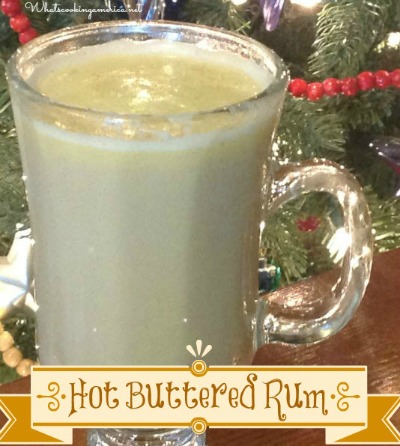 Hot Buttered Rum Mix Recipe – Ice Cream Hot Buttered Rum:
Hot Buttered Rum Mix Recipe
Ingredients:
1/2 pound (1 cup or 2 sticks) butter, softened
1/2 pound (2 1/2 firmly-packed cups) brown sugar
1/2 pound (4 cups) powdered (confectioners') sugar
1 pint top-quality vanilla ice cream, softened
1 teaspoon ground cinnamon
1/2 teaspoon ground nutmeg
Instructions:
In a large pot over medium heat, melt butter. Blend in the brown sugar and powdered sugar. Remove from heat and stir in the ice cream, cinnamon, and nutmeg.
Pour mixture into a freezer-safe container and cover with a lid. Freeze until ready to use.
May be kept frozen for up to 1 month (batter will not freeze solid).
Makes approximately 20 serving.
For Each Serving:
1 heaping tablespoon Hot Buttered Rum Batter*
1 fluid ounce of dark or light rum
Boiling water
Cinnamon stick for garnish
* You may alter amount according to taste.
In a coffee mug, add Hot Buttered Rum batter, rum, and then fill with boiling water. Stir well and then sprinkle the top with additional nutmeg and a cinnamon stick before serving.


Variation Ideas: Hot Buttered Rum Batter can also be added to coffee, apple cider, warm milk, hot chocolate, or used to make a milkshake.


https://whatscookingamerica.net/Beverage/HotButteredRumBatter.htm
Comments and Reviews