This Carrot, Pineapple, and Ginger Bread is like eating carrot cake without the frosting!  You will thank me after you devour a warm slice of this carrot bread spread with butter.  The taste is even better the next day…if it can last that long!
This recipe for Carrot Bread takes more preparation time to make than other other quick breads and also makes more mess in the kitchen.  But when you taste this delicious carrot bread, it will have been worth the time and effort!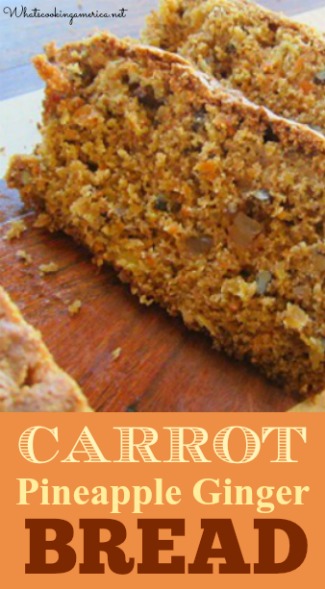 Carrot, Pineapple and Ginger Bread Recipe
Ingredients:
1 pound carrots (approximately)
1 (8-ounce) can unsweetened crushed pineapple, well drained
2 ounces crystallized ginger, finely diced
2 tablespoons fresh-squeezed lemon juice
2 cups granulated sugar
1 cup vegetable oil
3 eggs, lightly beaten
3 tablespoons grated orange peel (zest) or lemon peel (your choice)
1 teaspoon pure vanilla extract
3 cups all-purpose flour
2 teaspoons baking soda
2 teaspoons baking powder
1/2 teaspoon salt
2 teaspoons ground cinnamon
1/2 teaspoon freshly-grated nutmeg
1/2 teaspoon ground allspice
1 cup old-fashion oats (not instant)
1/2 cup chopped pecans (or your favorite nuts)
Instructions:
Preheat oven to 350 degrees F. Adjust oven rack to lower middle position. Grease or spray two (2) 9x5-inch loaf pan.
Prepare Carrots: Peel and grate carrots to produce approximately 1 1/2 cups finely-grated carrots and 1 1/2 cups coarsely-grated carrots; set aside.
Carrot Mixture: In a large bowl, combine grated carrots (both finely grated and coarsely grated), drained crushed pineapple, diced crystallized ginger, and lemon juice; set aside.
Egg Mixture: In another bowl, beat together the sugar and vegetable oil until creamy. Stir in the eggs, grated orange peel, and vanilla extract; set aside.
Combine Carrot Mixture with the Egg Mixture; mix well and set aside.
In a large bowl, sift together the flour, baking soda, baking powder, salt, cinnamon, nutmeg, and allspice. Beat together the carrot mixture with the flour mixture. Stir in the oats and pecans.
NOTE: Bake all quick breads as soon as the ingredients are assembled. Since high temperature are often called for, it is best to bake them in the center of the oven, as the heat in the top third of the oven will be too intense.
Pour batter into prepared loaf pans and bake 50 to 55 minutes or until a toothpick inserted in the center comes out clean. Be sure and poke the toothpick already to the center of the loaf. A good check is to use an instant digital thermometer to test your bread. The internal temperatureof the bread should be at 200 degrees F. when done.

This is the type of cooking and meat thermometer that I prefer and use in my cooking. I get many readers asking what cooking/meat thermometer that I prefer and use in my cooking and baking. I, personally, use the shown in the photo on the right. To learn more about this excellent thermometer and to also purchase one (if you desire), just click on the underlined: Thermapen Thermometer.
Remove bread from oven and cool on a wire rack 10 minutes; remove from pans. Cool completely before slicing.
Storage: Wrap tightly in plastic wrap or large re-plastic bags to prevent bread fro drying out. Store 3 days at room temperature. Freeze for longer storage.
Makes two (2) loaves.
https://whatscookingamerica.net/Bread/CarrotBread.htm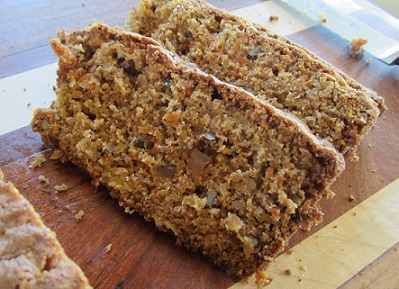 Sources:  This Carrot, Pineapple, and Ginger Bread recipe is from the cookbook, Newman's Own Cookbook, compiled by Ursula Hotchner and Nell Newman.  I slightly updated the directions in the recipe.  The recipe was originally by Sylvia Wachtel, Paul Newman's mother.
Comments and Reviews