Bread Recipes – Bread Machine Recipe Collection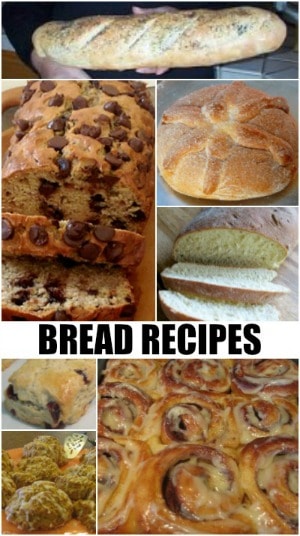 Bread recipes are easy-to-make and can be easier when you use your bread machine. I NEVER bake in my bread machine, I use the dough cycle only in the bread machine to mix and knead the bread dough. After the dough has risen one time in my bread machine, I take it out and make whatever shape I want, let it rise a second time in a warm place, and then bake it in my oven. All the recipes posted below have been personally baked and tasted by myself (unless otherwise noted). They look and taste like they came from the bakery!
So if you have a bread machine and don't use it, I hope you will reconsider and give your bread machine another try using my easy-to-make bread recipes below. Check out Secrets to Using the Bread Machine.
For perfect baked bread every time, also check out my Internal Temperature Cooking Chart.
---
---
---
---
As the name implies, quick breads can be made quickly and easily.  Because the leavening agent is either baking powder, baking soda, or steam, there is no rising time required.
Quick Bread Hints and Tips – How To Make Perfect Quick Breads
---
---
---
Sourdough Starter Recipe – Levain Starter Recipe
Learn how to make, maintain, and use sourdough starter. A good sourdough starter can last for years, even decades, with the proper loving care!
---
---
Find the best yeast bread recipes here. Recipes include both savory and sweet breads that include bread machine recipes, scratch bread recipes, and rolls. All recipe are tried, true and test recipes.
How To Use Yeast In Bread Making – Types of Yeast – Yeast Equivalents – Testing Yeast
---