Cheddar Cheese Bread as it is so delicious that I know you will love it!  I could not stop eating it as this bread is rich and aromatic.  If you are a jalapeno lover then you could also add in as much jalapeno chile peppers as you desire.
This delicious Cheddar Cheese Bread recipe has been adapted from a bread recipe posted by Ely on Gail's Recipe Swap.  Ely says  "This recipe comes from my sister in Virginia and I do not know the original source.  It is a favorite in our home.  I hope you enjoy it!"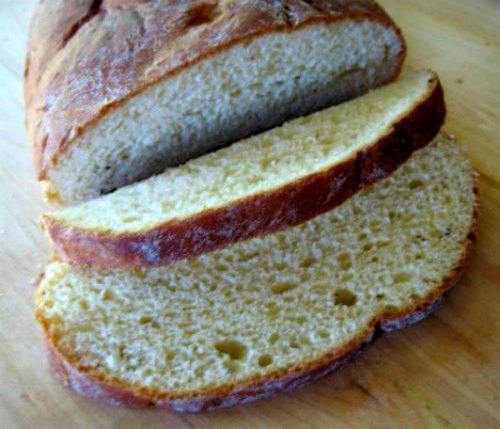 Check out Linda's Bread Making Hints: Secrets to using the bread machine, About yeast in bread making, Sourdough Starter, Quick Breads.
Cheddar Cheese Bread Recipe:
Cheddar Cheese Bread Recipe
Ingredients:
1 1/4 cups lukewarm water (110 degrees F.)
1/4 cup nonfat dry milk
1 tablespoon extra-virgin olive oil
1 teaspoon salt
2 tablespoons granulated sugar
1 teaspoon freshly ground coarse pepper (optional)
1 1/2 cups grated sharp Cheddar Cheese
1/3 cup freshly-grated Parmesan Cheese (Parmigiano-Reggiano)
3 cups bread flour
3 teaspoons instant active dry yeast
Instructions:
After resting, turn dough bottom side up and press to flatten. Fold dough into an envelope by folding the top 1/3 of the way to the bottom. Then fold the bottom a 1/3 of the way over the top. Then press dough with the palm of your hand to make an indentation down the center of the dough and fold the top completely to the bottom, sealing the seam with the palm of your hand.
Place on a jelly roll pan dusted with cornmeal; cover and place in a warm spot to rise for approximately 20 minutes. Preheat oven to 350 degrees F.
Oven Rising: Sometimes I use my oven for the rising. Turn the oven on for a minute or so, then turn it off again. This will warm the oven and make it a great environment for rising bread. If you can not comfortably press your hand against the inside of the oven door, the oven is too hot. Let it stand open to cool a bit. Sourdough rises more slowly than yeast bread. Always remember, the longer the rise time, the more sourdough flavor.
Cool or Refrigerator Rise: If I do not have the time to wait for the rise to finish or I know that I will be interrupted before the completed rise, I do a cool rise. A cool rise is when the dough is place in the refrigerator and left to rise slowly over night approximately 8 to 12 hours. I usually do this after the first rise and the dough has been shaped into a loaf. As this is a longer rise time, it improves the sourdough flavor in your finished bread.
After dough has risen, slash the bread with a very sharp knife making three 1/2-inch deep diagonal slashes. Brush the top of the bread with cold water and bake for 25 to 30 minutes or until nicely browned. A good check is to use an instant digital thermometer to test your bread. The temperature should be between 200 and 210 degrees F.

This is the type of cooking and meat thermometer that I prefer and use in my cooking. I get many readers asking what cooking/meat thermometer that I prefer and use in my cooking and baking. I, personally, use the Thermapen Thermometer shown in the photo on the right. To learn more about this excellent thermometer and to also purchase one (if you desire), just click on the underlined: Thermapen Thermometer.
Makes one 1 1/2-pound loaf.
https://whatscookingamerica.net/Bread/CheddarCheese.htm
Comments and Reviews