Orange Poppy Seed Scones are a take off of the lemon poppy seed scones. Both lemon and orange are my favorite ingredients to use in scones. Add the poppy seeds and you have a definite hit!
These Orange Poppy Seed Scones are best served warm and fresh, split open, and topped with either lemon curd or thick homemade jam and clotted cream (Devonshire Cream or Creme frache).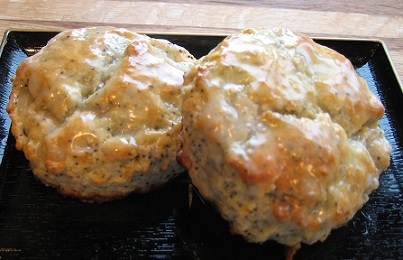 Check out Linda's History of English High Tea, English High Tea Menu, and Afternoon Tea Recipes.
More great Scone Recipes, Bread Recipes, Sourdough Bread Recipes, and Quick Bread Recipes for all your bread making.
Orange Poppy Seed Scones Recipe:
Orange Poppy Seed Scones Recipe
Ingredients:
2 1/2 cups all-purpose flour
1/3 cup granulated sugar3 tablespoons poppy seeds
1 1/2 teaspoons cream of tartar
3/4 teaspoon baking soda
1/4 teaspoon salt
3/4 cup chilled unsalted butter, cut into 1/4-inch pieces
2 large eggs, divided
5 tablespoons freshly-squeezed orange juice*
2 teaspoons grated orange zest*
1 tablespoon milk
* You may substitute lemon juice and zest for the orange juice and zest.
Instructions:
Preheat oven to 400 degrees F. Spray a large baking sheetwith vegetable-oil cooking spray.
In a large bowl, combine flour, sugar, poppy seeds, cream of tartar,baking soda, and salt. With a pastry blender or two knives, cut butter into flour mixture until particles are the size of small peas.
In a medium bowl, beat (1) one egg lightly with orange juice and orange zest. Add to flour mixture; stir just until mixed.
On a lightly floured surface, knead dough gently. Pat or roll out the dough into a circle 1/2-inch thick. Using a lightly greased and floured 2- or 3-inch biscuit cutter, cut into rounds, cutting close together to generate as few scraps as possible. Dip cutter into flour as often as necessary to keep dough from sticking. Push scraps of dough together so that edges join; firmly pinch edges with fingertips to make a partial seal. Pat this remaining dough to 1/2-inch thick; continue to cut 3-inch rounds. Space 1-inch apart onto prepared baking sheet. NOTE: When making scones, work the dough quickly and do not over mix.
Note: Scones can be cut into any shape you desire. Use a drinking glass to make circles, or cut into squares or wedges with a knife. Dip the edges of the cutter in flour to prevent the dough from sticking. Do not pat the edges of the scone down; instead leave the cuts as sharp as possible to allow the scones to rise in layers.
In a small bowl, combine 1 egg and 1 tablespoon milk; brush onto top of scones.
Bake 10 to 15 minutes or until golden brown. A good check is to use an instant digital thermometer to test your scones. The temperature of the scones should be at 200 degrees F. when done.

This is the type of cooking and meat thermometer that I prefer and use in my cooking. I get many readers asking what cooking/meat thermometer that I prefer and use in my cooking and baking. I, personally, use the Thermapen Thermometer shown in the photo on the right.


Remove from oven and serve at room temperature or warm.
NOTE: I combined some powdered sugar (confectioners') sugar and orange juice together to make a think icing to top the scones after baking. If making Lemon Scones, use lemon juice.
When the scones are cool, wrap airtight and hold at room temperature for up to one day or freeze to store longer. To reheat, unwrap scones (thaw wrapped, if frozen) and place onto a baking sheet. Bake in a 350 degrees oven 8 to 10 minutes or until warm.
Yields 8 to 10 large scones and 12 to 14 smaller scones.
https://whatscookingamerica.net/Bread/OrangePoppyScones.htm
Comments and Reviews