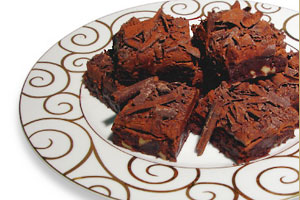 As you peruse this recipe, this thought may occur:  "Oh my!  These Chocolate Truffle Bars must be terribly rich and full of calories."   Well, you are exactly right – but indulge yourself anyway with one of these divinely decadent confections.
This is one of those ephemeral foods that after the first bite makes your eyes roll back in your head, make your body warm and tingle.  Soon you will be emitting oohs and aahs of sheer delight.
This chocolate bar is quite easy to make.  The base is made in one saucepan and the truffle topping in one bowl.
This is another recipe that could be considered both a candy and a cookie.  Check out more of Linda's favorite Cookie Recipes, Secrets To Making Perfect Cookies, and lots of Chocolate Recipes.
Decadent Chocolate Truffle Bars Recipe:
Decadent Chocolate Truffle Bars Recipe
Ingredients:
Brownie Base (see recipe below)
Truffle Topping (see recipe below)
Instructions:
Preheat oven to 350 degrees F. Lightly spray a 9-by-13-inch baking pan with nonstick cooking spray. Set aside.
Prepare Brownie Base according to recipe below.
Prepare Truffle Topping according to recipe below.
If desired, cover the top of the bars with shaved dark chocolate. Allow the bars to sit at room temperature until the ganache firms up. Dust lightly with cocoa, if desired. Cut into 1-inch squares. Store the bars in an airtight container to prevent them from drying out. These are better eaten at room temperature.
Makes approximately 3 dozen bars.
https://whatscookingamerica.net/Candy/ChocolateTruffleBars.htm
Brownie Base:
1 cup unsalted butter
7 ounces unsweetened chocolate, chopped
2 cups granulated sugar
4 eggs
1 cup all-purpose flour
1 teaspoon pure vanilla extract
1 cup walnuts or pecans, chopped
Truffle topping (see recipe below)
In a heavy saucepan over low heat, add butter and heat until just melted; remove from heat.  Add the unsweetened chocolate to the melted butter, stirring constantly with a rubber spatula until the chocolate is completely melted; remove from heat and let cool slightly.
Add the sugar and stir to completely combine.  Add the eggs, one at a time, stirring vigorously after each addition to thoroughly combine the egg into the batter.  Add flour and stir to combine. Add the vanilla and walnuts.  Pour batter into prepared baking pan.
Bake for 20 to 25 minutes only (the brownie may still look soft and shiny).  Care must be taken not to over bake the base or it will end up being dry and crumbly.  Remove from the oven and place on a cooling rack.  Cool completely before adding Truffle Topping.
Truffle Topping:
4 (2 ounces each) dark chocolate bars
3/4 cup heavy or whipping cream
1 tablespoon light corn syrup
1 tablespoon unsalted butter, softened
Shaved dark chocolate and unsweetened cocoa (optional)
Chop the chocolate and place in a stainless steel or heat-proof glass bowl.  Check to make sure the bowl will fit on top of your saucepan.
In a small heavy saucepan over medium-high heat, add 1 inch of water.  Bring water to a simmer.  Remove the saucepan from the stove.
Place the bowl containing the chopped chocolate on top of the pan of simmering water.  Stir the chocolate until it is completely melted.  Remove the bowl from the top of the pan and dump the water out of the saucepan.
Place the cream and corn syrup into the saucepan and bring to a boil.  Pour the hot cream/corn syrup liquid over the melted chocolate and whisk to completely combine.
NOTE: You now have a ganache.  A ganache (gah NAHSH) is defined as a combination of chocolate and cream, melted together slowly.  When used warm, ganache is poured over cakes or cookies to form a smooth glossy coating.  If chilled, it can be formed into chocolate truffles.
Set the chocolate mixture aside and allow the ganache to cool for 5 minutes.  Whisk the softened butter into the chocolate mixture.  Allow the ganache to cool to room temperature.  The mixture will have a thick, custard-like consistency.
Whisk the ganache until it begins to lighten in color slightly. Spread the ganache evenly over the cooled brownie base.
---
More Delicious Chocolate Cookies:
Chocolate Crinkles (Kringles)
These are wonderful cookie – a chocolate lover's delight!  I definitely love chocolate!  This delicious and popular cookies are know by several names, such as Aggie Cookies, and Crinkle or Kringle Cookies.
Chocolate Espresso Cookies
Chocoholics Beware! I like to call these cookies Chocolate Bombs, as the chocolate, espresso, and cayenne powder seem to explode in your mouth with flavor.
Chocolate Sundae Cookies
These cookies remind me of the chocolate pinwheel cookies.  I believe this cookie recipe is an older Pillsbury Cook-Off recipe winner.
Korova Cookies (Sables Korova)
This is a simple butter cookie turned into something magical.  It's that unexpected hint of salt and how it combines with the chocolate that makes for an explosive burst of flavor.
Source: This recipe and photo are from the Moonstruck Chocolate Company.  This recipe was published in the Portland, Oregon Oregonian FOODday on Tuesday, February 8, 2005.
Comments and Reviews