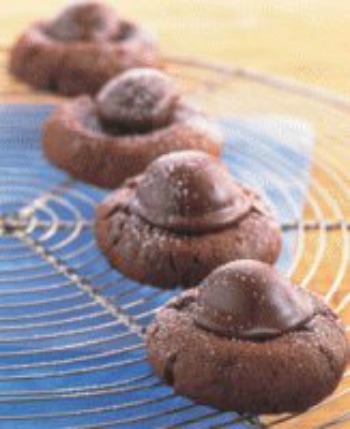 Cherry Bon Bon Cookies are so good that you will think you are eating candy!  You will definitely want to add these delicious Cherry Bon Bon cookies to your Christmas baking list.  I slightly adapted this wonderful Cherry Bon Bon Cookie recipe from the famous Betty Crocker Cook Book of 1950s.
According to the cookbook:
Bon Bon Cookies are described as "fascinating, beautiful, and delicious. They are full of surprises inside and out.  As easy as 1-2-3."
More favorite Cookie Recipes and Secrets To Making Perfect Cookies.
Also learn How To Have A Successful Holiday Cookie Exchange or Cookie Swap.
Cherry Bon Bon Cookies Recipe:
Cherry Bon Bon Cookies Recipe
Ingredients:
1 1/2 cups all-purpose flour
1/2 cup unsweetened cocoa
1/2 cup butter, room temperature
1 cup granulated sugar
1 1/2 teaspoons baking powder
1 large egg
1 1/2 teaspoons pure vanilla extract
1 1/2 teaspoons cherry flavoring (optional)
48 fresh sweet cherries, pitted*
1 (6-ounce) package semi-sweet chocolate chips
1/2 cup sweetened condensed milk
* If you cannot get fresh cherries, well-drained maraschino cherries may be substituted.
Instructions:
Preheat oven to 350 degrees F.
In a small bowl, combine flour and cocoa; set aside.
In a large bowl with an electric mixer, beat butter, sugar, and baking powder until blended. Add egg, vanilla extract, and cherry flavoring; beat until well combined. Gradually beat in flour mixture.
Shape dough into 1-inch balls; place 1/2-inch apart on ungreased cookie sheets.
Press down center of each ball with thumb to create a small hollow; fill each center with a cherry; set aside.
In small pan over low heat, combine chocolate chips and condensed milk; heat until chocolate is melted.
Spoon about 1 teaspoon chocolate mixture over each cherry, spreading to cover cherry.
Bake 10 to 12 minutes or until done. Remove to wire cooling racks and cool.
https://whatscookingamerica.net/Cookie/CherryBonBonCookies.htm
Source:  Original recipe and photo from the Northwest Cherry Growers.
You Might Also Like:
Thumbprint Cookies
I love thumbprint cookies! In this recipe I am using a basic shortbread cookie dough and filling the cookie with homemade Raspberry and Blackberry jam that my daughters preserved during the summertime.  Use your favorite jam for the filling.
Cherry Gem Cookies
I love colorful cookies at Christmastime!  They look so tempting to eat and always get me into the Christmas spirit.  It is as if this cookie recipe came direct from Mrs. Claus herself!  I adapted this recipe to use shortbread cookie dough.
Candy Cane Kiss Cookies
Another great cookie for the peppermint lovers out!  These shortbread cookies have candy cane pieces mixed in the dough and the center is topped with a Hershey's Candy Cane Kiss.  This cookie is both festive and fun to eat.
Bon Bon Cookies
Some people will call these candy – but candy or cookie they are a wonderful!  These cookies have always been a holiday favorite of mine.
Comments and Reviews