Lemon Sable Cookies also known as Sables au Citron or Lemon Butter Cookie are a classic French cookies originating in Normandy.  The word Sable is French for "sand," which refers to the soft sandy crumbly shortbread-like texture.
Lemon Sable cookies are a simple yet delicious butter cookie that are awesome!  The flavors blend well – sweet butter, salt, and tart lemon just melt away in your mouth.   It is a great basic recipe that you can bake for a dinner party, holiday or just to enjoy at home.  They are an elegant treat and a great make ahead recipe.  The dough can be refrigerated for up to 1 week or frozen for up to 1 month.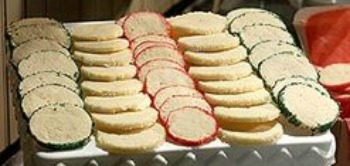 More favorite Cookie Recipes and Secrets To Making Perfect Cookies.  Also learn How To Have A Successful Holiday Cookie Exchange or Cookie Swap.
Lemon Sable Cookie – Lemon Butter Cookie Recipe:
Lemon Sable Cookies Recipe
Ingredients:
2 cups all-purpose flour
2 teaspoons baking powder
1 cup unsalted butter, room temperature
1/2 cup powdered (confectioners') sugar*
1/2 cup granulated sugar
2 tablespoons grated lemon zest (from 2 to 3 lemons)
1 teaspoon coarse salt**
3 large egg yolks
Granulated sugar (for coating)
1 egg white plus 1 teaspoons water (for coating)
* Because the dough is made with powdered (confectioners) sugar, the cookies are softer and more tender than most butter cookies.
** This is a good place to use your wonderful sea salt or Fleur de Sel salt.
Instructions:
In a small bowl, sift the flour and baking powder together; set aside.
Using the paddle attachment of your electric mixer, beat butter until creamy. Add the powdered sugar and beat for an additional minute. Add the granulated sugar and beat another minutes until combined. Add the lemon zest and salt; mix just briefly. Add the egg yolks and mix until just combined.
With the mixer on low, gradually add the flour mixture and blend just until the flour is incorporated. NOTE: It is better to under beat than over beat at this point. Be gentle when you mix in the flour, as tender cookies depend on a tender touch.
Divide the dough between two 1-foot long sheet of plastic wrap or parchment paper. The dough will be quite soft at this point. Shape each dough piece into a rough log approximately 1 1/4 inches thick (it is important to get the thickness right). Wrap the plastic wrap around the dough; continue shaping and rolling form a nice round log. Twist the end of the plastic wrap and tuck them under each log.
Refrigerate for at least 2 hours or up to a 3 days. The dough can also be stored in the freezer for up 1 month. NOTE: Refrigerating the dough relaxes the gluten and also helps the cookies hold their shape during slicing and baking. The dough can be refrigerated for up to 1 week or forzen for up to 1 month.
When ready to bake the cookies, preheat oven to 350 degrees F. and place rack in the middle of the oven. Line two (2) cookie sheets with parchment paper or use the Silicone Baking Mats to prevent the cookies from sticking. I personally recommend that you use the Silicone Baking Mats as nothing sticks to them.
In a small bowl, whisk the egg white and water together.
Remove the logs of dough from the refrigerator, unwrap them, and with a pastry brush, lightly spread a little egg white mixture over the top.
Lay a 3rd piece of plastic wrap or parchment sheet on the counter and pour out a ridge of granulated sugar, approximately the length of the logs, for rolling them in. Roll the chilled dough logs, one at a time, in the granulated sugar, pressing the sugar gently to get it to stick if necessary. Completely coat the logs with sugar.
Using a sharp knife, slice the logs into 1/4-inch thick slices. Lay the slices about 1-inch apart on the prepared baking sheets.
Bake for 12 to 15 minutes (turning the baking sheets halfway through baking) until golden on the edges only. Remove from oven and let cool on wire cooling rack.
Store in an airtight container. These cookies are best after sitting a couple of days. Because of the sugar coating, these cookies are not suitable for freezing. For Christmas, roll dough in larger-grained, crystal, or colored sugar.
https://whatscookingamerica.net/Cookie/LemonSableCookie.htm
Source:  Photo from Martha Stewart Living.
Comments and Reviews