What could be better than a low fat and low calorie delicious crab cake –  even better yet. how about Crab Cakes with Orange Dill Sauce?
Please check out my Spanish Paella Dinner Menu (with recipes) using these delicious Crab Cakes with Orange-Dill Sauce as a tapa.
Orange-Dill Sauce Recipe: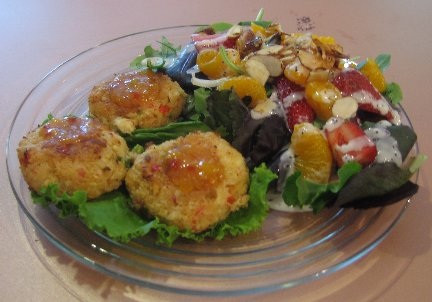 Check out more of Linda's great Crab Recipes and Appetizer Recipes for more great cooking ideas.
Crab Cakes with Orange-Dill Sauce Recipe:
Crab Cakes with Orange Dill Sauce Recipe
Ingredients:
Orange-Dill Sauce (see recipe below)
1 pound cooked fresh crab meat*
4 teaspoons butter, divided
1/4 cup finely-chopped celery
1/4 cup minced green onions
1 tablespoon minced fresh chives
1 jalapeno chile pepper, cored, seeded, and minced
1/4 cup light or low-fat mayonnaise
1/4 cup bread crumbs**
1 teaspoon freshly-squeezed lemon juice
Salt and white pepper to taste
1 large egg, slightly beaten
* If you can't get fresh crab, look for the pasteurized crab usually sold in the refrigerated case of your supermarket or fish store.
** Check out Making Homemade Bread Crumbs.
Instructions:
Prepare Orange-Dill Sauce. Carefully clean the crab meat of any shells or cartilage; set aside.
In a large non-stick frying pan over medium heat, melt 1 teaspoon butter. Add celery, onions, chives, and chile pepper; saute 2 minutes or until vegetables are limp; remove vegetables from heat and place in a large bowl. Add crab meat, mayonnaise, bread crumbs, and lemon juice; gently mix together. Season with salt and white pepper. Carefully fold in egg with a rubber spatula until mixture just clings together.
Divide crab mixture into eight portions and shape each into a flat, round cake about 3 inches across and 1-1/2 inches high. Place onto a baking sheet lined either parchment or wax paper; cover with plastic wrap and refrigerator at least 3 hours or overnight (the cold will firm up the cakes so that they will not break up when fried).
In a large nonstick frying pan over medium heat, heat butter until hot but not smoking (add more butter if needed). Gently lay chilled crab cakes onto bottom of the pan; slowly fry crab cakes approximately 4 minutes per side or until crisp and golden brown, turning once only with a spatula. If the crab cake browns too quickly, reduce heat. The internal temperature should be 150 to 155 degrees F. with an instant read cooking thermometer. Remove from heat, transfer onto a serving platter, and serve hot with the prepared Orange-Dill Sauce.

This is the type of cooking and meat thermometer that I prefer and use in my cooking. I get many readers asking what cooking/meat thermometer that I prefer and use in my cooking and baking. I, personally, use the Thermapen Thermometer shown in the photo on the right. To learn more about this excellent thermometer and to also purchase one (if you desire), just click on the underlined: Thermapen Thermometer.
Makes 4 servings (8 crab cakes) as a main course and 6 servings (12 crab cakes) as an appetizer or starter course (two each per serving).
Orange-Dill Sauce Recipe:
2 tablespoons light or low-fat mayonnaise
1 teaspoon grated orange zest
1 tablespoon freshly-squeezed orange juice
1 teaspoon minced fresh dillweed
In a medium bowl, combine mayonnaise, orange zest, orange juice, and dill weed. Cover and refrigerate at least one hour. Serve cold.
https://whatscookingamerica.net/CrabCakesOrange.htm
Comments and Reviews