Categories:
Baking
Christmas Cookies
Dessert Recipes
Rolled Cookies & Cut Out Cookies
Southwest Desserts
Southwest Recipes
Biscochito Cookies are a favorite southwestern Christmas treat.  
Like Thanksgiving, Christmas was not something the native Indians of Mexico in the United States celebrated. Christmas came over with Spanish Missionaries.  According to history, the first Christmas celebration in Mexico was in 1538, when a Fransican Monk, Fray Pedro de Gante invited all of the Indians surrounding the mission to celebrate Christmas.  The Indians liked these new festivities, and began to incorporate some of their culture, such as flowers and feathers.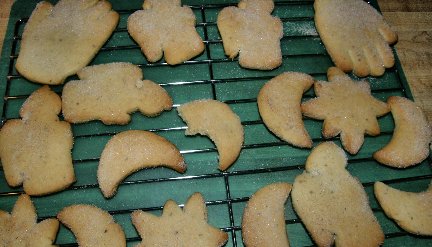 The Poinsetta, which is a common holiday flower, is a native of Mexico.  There is a tale told in Mexico that the Poinsetta came to be a holiday flower because of a poor young boy in one of the villages.  He had nothing to offer at the Nativity in town, so along side the road he found some branches with green leaves.  He placed these along side the manger in the nativity as his offering.  The other children of the visit ridiculed him for such a silly gift, but as they did the leaves of the plant turned a brilliant scarlet red in the shape of a star.   I don't know if this story is true or not, but it does make for a nice tale.
Christmas in Mexico begins on December 14th, as this is the day the Posadas begin.  The posadas are a re-enactment of Mary and Joseph's travel to Bethlehem and search for lodging the night Christ was born.  The posadas last for 9 days, up until Noche Buena or Christmas Eve.  The posadas are often re-enacted by friends and family who will travel from house to house looking for shelter.  Finally, at the last house they are welcomed in with a festive party.  Food, drinks, games and of course, a piñata for the children to try to break will be there.  Traditionally the piñata would be a star made of clay and covered in brightly colored paper strips.  Inside they were filled with fruits and nuts for the children to gather up once the piñata was broken.
This Bizcochito Cookie recipe, comments, and photos are courtesy of Cynthia Detterick-Pineda of Andrews, TX.
More favorite Cookie Recipes and Secrets To Making Perfect Cookies. Also learn How To Have A Successful Holiday Cookie Exchange or Cookie Swap.
Biscochitos/Bizcochitos – Anise Seed Cookie Recipe:
Bizcochito Cookies - Anise Seed Cookie Recipe
Ingredients:
1/2 cup unsalted butter (vegetable shortening can be used)
2/3 cup granulated sugar
1 egg, room temperature
1 teaspoon anise seeds (1/2 tsp of anise extract can be used if the seeds are not available)
1 tablespoon brandy
1 1/2 cups all-purpose flour
1 teaspoon baking powder
1/4 teaspoon salt
1/4 cup sugar
1/4 teaspoon ground cinnamon
Instructions:
Place the butter, sugar, egg, anise seeds, and brandy in a large bowl.
With an electric mixer combine these until well creamed, scraping down the bowl several times during mixing.
Sift the flour, baking powder, and salt into a separate bowl; add the creamed mixture working it in with a fork or a pastry cutter until there is no more loose flour in the bowl and a mass of dough has formed.
Form dough into a disc shape and wrap loosely with plastic wrap. Place in the refrigerator for 15 to 20 minutes. This chilling will help firm it up if you plan to roll the dough out and cut into shapes.
Preheat oven to 350 degrees F.

Round cookies: Shape the rounds with your hands, or place a 1-inch ball of dough on a floured board and press it firmly with the bottom of a glass to make the round.
For cutting shapes: Roll out the dough on a lightly floured board to about 1/4-inch thickness. Either cut dough into small shapes or use 2- to 3-inch cookie cutters. Gather up any unused dough scraps, form into a ball, chill briefly, and then roll. NOTE: The dough is very tender and is easiest to work with when it is kept cool.
Mix the sugar and cinnamon together in a wide, shallow dish or plate. For both the round and the cut shapes, press them into the cinnamon/sugar mixture and place on an ungreased cookie sheet.
Cook for approximately 12 to 15 minutes or until browned on the edges. Remove from oven and transer the biscochitos cool to wire racks to cool. NOTE: Be careful as these are fragile cookies when warm.
Store in a tightly sealed container or bag. They will last for several weeks.
https://whatscookingamerica.net/CynthiaPineda/Bizcochitos2.htm
Comments and Reviews