Tequilla Lime Chicken is an outstanding chicken dish that I came up with after eating at one of the popular chain restaurants.  I had looked around for a similar recipe, and I did find one, but it just was not the same.  I wanted something that would pack some great flavor and "wow" my husband.  So I just started pouring the tequila; no, not into a shot glass, but into a measuring cup.  Here is what came of all that tequila, some limes, and produced this fantastic Tequilla Lime Chicken.  I hope you enjoy!
Barbeque and grilling are often considered a Southwest tradition.  I know in my household they are.  Perhaps it is the many days of fair weather that allows for cooking outdoors, or the wonderful taste that comes from a smoky fire cooking meats until they are tender and succulent.  Whatever the reason, the grill on our back patio seems to stay lit for most of the Spring, Summer and Fall.  Besides, when I can walk out the back door and break off a few limbs from a Mesquite bush to smoke the grill with, it must be meant for me to be firing up the grill!  I have even been known to be out there cooking while wearing a coat, gloves, thermals and ear muffs!  There just is not a of weather out here that can really stop our grill from burning.
More great Poultry Recipes and learn how to Brine Poultry for a moister and tastier dish.
This Tequilla Lime Chicken recipe, comments, and photos are courtesy of Cynthia Detterick-Pineda of Andrews, TX.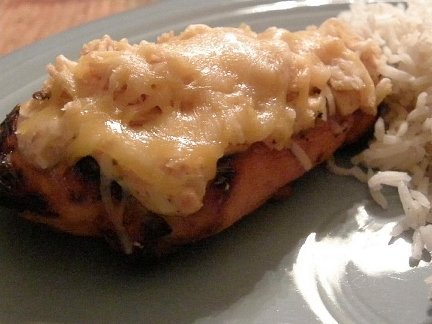 Shop What's Cooking America
– Easy on-line shopping for all your cooking and baking needs such as
 Electric Smokers, Barbecues, Barbecue Accessories, Smoker Bisquettes, 
Chef Knives, Kitchen Tools, Cookware, Bakeware, Enameled Cast-Iron Dutch Ovens, KitchenAid Stand Mixers, Food Processors, Silicone Baking Mats
, plus Linda's favorite 
Thermapen Thermometer
.
Tequila Lime Chicken Recipe:
Tequila Lime Chicken Recipe
Ingredients:
6 large chicken breasts, deboned and skin removed
1/4 cup gold tequila liquor
1/2 cup lime juice (bottled is fine, as long as it is pure juice)
1 small onion, diced finely
3 cloves garlic, finely minced
1 jalape chile pepper, seeded, deveined, and minced
1 teaspoon liquid smoke (preferably mesquite, but others will work)
2 tablespoons firmly-packed brown sugar
Spicy Sauce Recipe (see recipe below)
Crushed tortilla chips, about 1 cup
1 cup of grated cheese, Colby, mild Cheddar, Monterrey or a mixture of your choice
Instructions:
In a large bowl, mix together tequila, lime juice, onions, garlic, chile pepper, liquid smoke, and brown sugar. Make sure the brown sugar is dissolved and all the other ingredient are distributed well. Pour the mixture into a heavy-duty zip lock bag and add the chicken breasts. Zip up the bag and "slosh" the mixture to cover the chicken entirely. Place this in the refrigerator to marinate for a minimum of 4 hours, preferable overnight.
After the mixture has marinated sufficiently, light your Barbecue grill. It really does not matter if you use a gas grill or coals, or even grill these indoors under the broiler or on a hibachi. The fire should be about medium flame, or the coals should be red hot.
Place the marinated chicken breast on the grill and cook approximately 25 minutes or until a meat thermometer registers an internal temperature of 165F (juices will run clear when cut with the tip of a knife). Do not close the lid on the barbecue. Turn the breast frequently to keep from charring. If you are using coals to grill with, make sure that you have not placed the breast over a hot spot that causes the outside of the chicken to overcook and leaves the insides pink. Cooking too long will cause the meat to be rubbery; cooking to short of a time will leave the center underdone and pink.

This is the type of cooking and meat thermometer that I prefer and use in my cooking. I get many readers asking what cooking/meat thermometer that I prefer and use in my cooking and baking. I, personally, use the Thermapen Thermometer shown in the photo on the right. To learn more about this excellent thermometer and to also purchase one (if you desire), just click on the underlined: Thermapen Thermometer.
Once you have reached doneness, move the chicken breasts to a warming area of your grill. If you do not have a warming rack on your grill, place it off to the side where there is not enough heat to cook the chicken further, but enough to keep it warm.
To serve, spoon enough of the Spicy Sauce mixture over the chicken to cover the top. Sprinkle with the crumbled chips and then the grated cheese. Carefully move the chicken breast back to a warmer part of the grill and allow the cheese to melt before serving.
Makes approximately 6 servings.

Spicy Sauce Recipe:
If made properly, this recipe yields a slow heat sauce. At first you might not think it has any heat, but be prepared for at least a little spice to hit your palate slowly. This sauce also makes a great dip with chips.
1/2 cup mayonnaise (low fat is ok to use, but not fat free)
1/2 cup sour cream (low fat is ok to use, but not fat free)
1 teaspoon milk
3 tablespoons minced onion
2 cloves of garlic, crushed
1 large jalape chile pepper seeded, deveined, and minced
3 tablespoons minced red bell pepper
2 tablespoons salsa, commercial jarred salsa of your choice
1 teaspoon of chile powder
1/2 teaspoon of cayenne pepper
1/2 teaspoon of paprika
1/2 teaspoon dried dillweed, crushed to release oils
1/2 teaspoon Mexican Oregano, crushed to release oils
In the small cup of a food processor or blender, mix the mayonnaise, sour cream, milk, onion, and garlic. Blend until combined and the onion and garlic is finely chopped. Add the jalapeno chile pepper and red bell pepper; pulse 4 to 5 times to chop and incorporate these into the mixture. Add the salsa, chile powder, cayenne pepper, paprika, dill weed, and oregano; pulse 2 or 3 times, just enough to mix these in.
Place the mixture in the refrigerator for at least 20 minutes, or while the chicken cooks on the grill. It will be ready to use after allowing to set long enough for the flavors to begin to blend.
https://whatscookingamerica.net/CynthiaPineda/TequilaLimeChicken/TequilaChicken.htm
Comments and Reviews