Gelato al Pistachio
Learn how to make homemade Italian pistachio gelato and transport yourself to the streets of Italy with each bite!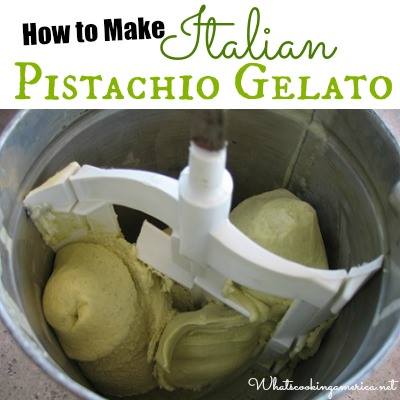 Italian Pistachio Gelato recipe and photos are being shared by my daughter, Nancy Hartman of Portland, Oregon.  Check out Nancy's article Italian Gelato – One Day I Walked Into A Gelateria.
Nancy says, "I was having fond memories of Italy today and decided to try my hand at my favorite gelato – Pistachio Gelato!  I searched the web for an authentic Italian Gelato recipe, and there are not a lot out there.  I found one to try, I played around with, and it turned out great!
When in Italy, I also learned that one of the main differences in gelato is in the preparation.  Gelato is made in a custard form first, heating it up, and then allowing it to cool down so that the milk proteins bind.  This produces the smaller ice crystals and delicate flavor that differentiates it from ice cream.  Gelato is definitely one of Italy's great culinary creations!
My son, Christopher, prefers Chocolate Ice Cream, so it was decided we needed to make both kinds in case he did not like this Pistachio Gelato.  So we might as well double each so we have a lot of both – so we did!"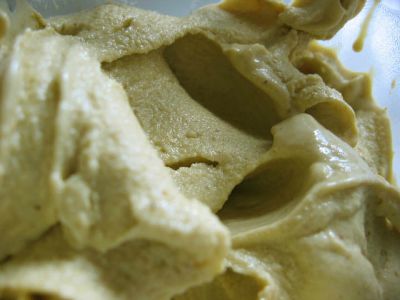 More delicious Ice Cream, Sorbet, Granita, and Gelato Recipes.
Italian Pistachio Gelato Recipe:
Italian Pistachio Gelato Recipe - Gelato al Pistachio
Ingredients:
4 cups whole milk, divided
3 tablespoons plus 2 teaspoons cornstarch*
1 cup superfine sugar**
1 teaspoon pure vanilla extract
1 cup pistachio Cream (see below)
* Also know as corn flour.
** Regular granulated sugar may be substituted.
NOTE: Vegan Version: Substitute almond milk for the whole milk.
Instructions:
When in Italy, I learned that one of the main differences in gelato is in the preparation. Gelato is made in a custard form first, heating it up, and then allowing it to cool down before putting in the ice cream maker.


Prepare Custard:
In a small bowl combine 1 cup milk, cornstarch, and sugar. Using a wire whisk, combine the ingredients to form a slurry so that all the cornstarch is dissolved and the mixture is smooth.
In a medium-size saucepan over medium heat, combine the remaining 3 cups milk and the vanilla extract. Stirring occasionally, heat the mixture to almost a boil; stir in the cornstarch mixture and let simmer from 5 to 12 minutes to thicken, stirring constantly. Another important tip is to stir slowly, (do not whisk) which will prevent too much air from being incorporated in the custard and will produces smaller ice crystals.
Remove from heat and transfer the mixture to a bowl. Cover and refrigerate until completely chilled, preferably overnight.
Prior to using the custard mixture, pour the chilled custard through a strainer into a mixing bowl to clear out any clumps that may have formed. Store in the refrigerator until ready to use.


Prepare the Pistachio Cream (see recipe below).
Whisk the prepared chilled Pistachio Cream into the strained and chilled custard. The gelato mixture is now ready for the freezing process.
Transfer the mixture into your ice cream maker and freeze according to the manufacturer's instructions. Either churn your ice cream by hand or by motor.
With Gelato, it is best to not process it until it is hard. Instead, stop the ice cream maker at soft serve consistency, then put it in a container in your freezer until hard for a delicate flavor and texture that differentiates it from ice cream.
When the gelato is done, either serve and enjoy (best if eaten and enjoyed immediately as gelato has a shorter storage life than ice cream) or transfer to freezer containers and freeze until firmer.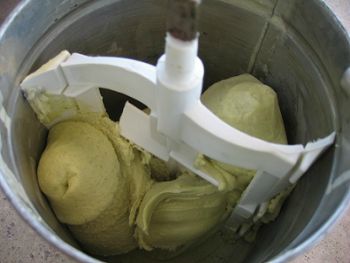 Makes approximately 1 quart of pistacho gelato.
Pistachio Cream Recipe:
1 cup hot water
7 to 8 ounces raw unsalted shelled and hulled pistachio nuts
2 tablespoons superfine sugar
2 teaspoons olive oil
In a medium-size saucepan, bring water to a boil.
Place the prepared pistachio nuts, sugar, and olive oil in a food processor. Blend/process, adding the hot water (1 tablespoon at a time to control the consistency of the cream) until pistachios are a smooth, creamy consistency that blends freely in the blender (I actually used 9 tablespoons of hot water). Stop the processor and scrape down the sides of the bowl several times during this process.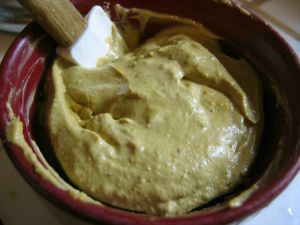 When done, cover and refrigerate the Pistachio Cream until ready to use in making the gelato.
Makes approximately 1 cup.
https://whatscookingamerica.net/Desserts/PistachioGelato.htm
Comments and Reviews