Razzle Dazzle Red Raspberry Pie recipe is in memory of my daughter-in-law, Kathleen Stradley of Canby, Oregon.  This was Kathy's favorite dessert to make when she had family and friends over.  This is a very rich and delicious pie and also very easy to make.  This type of pie is also known as a Refrigerator Pie, Icebox Pie, and also a No Bake Pie.
History:  These types of pies were named after the ice box that they were kept cool in.  As there were no electricity or refrigerators, an ice box was used to store perishables in the summer.  A farmer might have an ice box if he had access to an ice house, otherwise he probably didn't. The majority of Americans did not live in cities, they lived on farms, and the majority of those did not have electricity until World War II.
Any donations to the ALS Association are greatly appreciated by my family.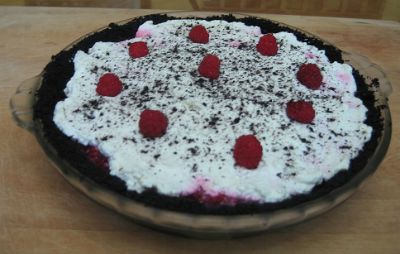 More great Pie Recipes.
Razzle Dazzle Red Raspberry Pie Recipe:
Razzle Dazzle Red Raspberry Pie Reipe
Ingredients:
Oreo Cookie Pie Crust
1 (14-ounce can) sweetened condensed milk
1 (8-ounce) package cream cheese, softened
1/3 cup fresh-squeezed lemon juice
1 (10-ounce) package frozen raspberries, drained and thawed or 2 cups fresh raspberries (reserve juices from the berries)
2 teaspoon arrowroot*
1 cup whipping cream, whipped
Grated semi-sweet chocolate for garnish
* Arrowroot can be found in the spice section. Cornstarch may be substituted for arrowroot.
Instructions:
Prepare Oreo Cookie Pie Crust. Place the ground Oreo crumb mixture into a 9- or 10-inch deep-dish pie pan and press into the bottom and up the sides evenly. Try to make the crust about 1/8 inch (1/3 cm) evenly all around. Chill the crust for an hour before you add the filling of your choice (this will help prevent crumbling when you want to serve it).
In a large bowl, combine sweetened condensed milk and softened cream cheese. Stir in lemon juice until well combined. Pour into prepared Oreo Cookie Pie Crust. Refrigerate until ready to finish filling the pie.
In a small sauce pan, combine the raspberry juice and arrowroot, stirring or whisking well to combine. NOTE: When using fresh raspberries, mash about 1/4 cup of raspberry and add enough water to make 1/3 to 1/2 cup to use in place of the juices from the frozen raspberries. Over medium heat, cook and stir until the mixture is thickened. Remove from heat and add the raspberries, reserving a few whole raspberries for garnish. Let raspberry mixture cool.
When the raspberry mixture has cooled, pour the mixture over the refrigerated cream cheese mixture in the pie shell. Garnish with prepared whipped cream, grated chocolate, and raspberries.
Refrigerate until firm.
Makes 1 pie.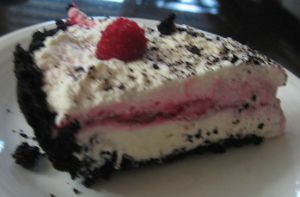 https://whatscookingamerica.net/Desserts/RazzleDazzleRaspberryPie.htm
Comments and Reviews