Watermelon Gazpacho recipe creates a delicious sweet-and-savory chilled soup that is perfect as a first course or appetizer on a hot summer evening with family or friends.  The delicate flavors of cucumber and watermelon is so very refreshing and makes a great start to any summer meal.
This gazpacho is similar to the classic Spanish-style tomato gazpacho, but uses watermelon as the main ingredient.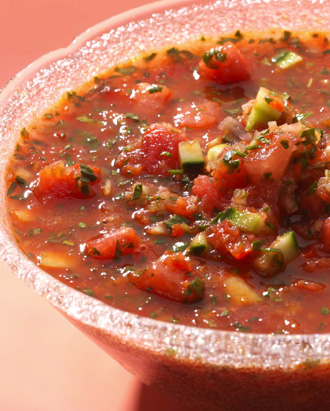 Watermelon Gazpacho Recipe:
Watermelon Gazpacho Recipe
Ingredients:
8 cups finely-diced seedless watermelon (about 6 pounds without the rind)
1 medium cucumber, peeled, seeded and finely diced
1/2 red bell pepper, cored, seeded, and finely diced
1/4 cup chopped fresh basil leaves
1/4 cup chopped flat-leaf parsley
3 tablespoons red wine vinegar
2 tablespoons minced shallot or green onions
2 tablespoons extra-virgin olive oil
3/4 teaspoon salt
Instructions:
Mix all the ingredients in a large bowl.
Puree 3 cups of the watermelon mixture in a blender or food processor (I used my Vitamix) to the desired smoothness; transfer to another large bowl and set aside.
Puree another 3 cups of watermelon mixture and add to the bowl. Stir in the remaining diced mixture.
Serve at room temperature or chilled.
Makes 6 servings (generous 1 cup each).
https://whatscookingamerica.net/Fruit/WatermelonGazpacho.htm
Source:  This recipe is from Eating Well Magazine. Photo by Ken Burris.
Comments and Reviews