Cabbage Gratin is a lovely, savory, and comforting cabbage dish.  We especially love the addition of freshly-grated nutmeg and the Gouda cheese.  This dish is quick to prepare if you have the cabbage cut and cheese grated ahead of time.  In some ways, this will remind you of macaroni and cheese.  This dish works well with my Weeknight Porchetta (Pork Tenderloin).
This delicious cabbage recipe, comments, and photos were shared with my by Karen Calanchini, Food Stylist and Photographer, of Redding, CA.  Recipe was slightly adapted from a recipe by Kate Washington, Sunset Magazine, January 2015.
More delicious and easy-to-make Cabbage Recipes.
Cabbage Gratin Recipe:
Ingredients:
4 tablespoons butter, divided
1 head of green cabbage (about 1 1/2 to 1 3/4 pounds), cored and cut into 8 wedges
3/4 teaspoon coarse sea salt
1/2 teaspoon freshly-ground pepper or to taste
1/4 cup water
1 to 2 garlic cloves, finely chopped
1 1/2 teaspoons fresh thyme leaves, removed from stems
1/4 teaspoon (or to taste) of freshly-grated nutmeg
1 tablespoon all-purpose flour
1 cup heavy whipping cream (I used the entire 1/2 pint)
7 ounces of an aged Gouda cheese, grated
1/2 cup fresh sourdough bread crumbs*
Sweet paprika
* Learn how easy it is to make Homemade Bread Crumbs.
Instructions:
Preheat oven to 400 degrees F.
Melt 2 tablespoons butter in a Dutch oven over medium-high heat. Add cabbage wedges, cut side down. Sprinkle with 3/4 teaspoon salt and 1/2 teaspoon ground pepper. Cook, turning once, until lightly browned on both sides, about 5 to 7 minutes. Add 1/4 cup water to pan; cover and cook until cabbage is just tender, approximately 3 to 5 minutes more.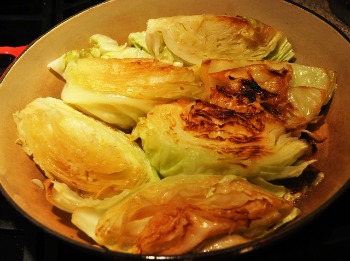 Meanwhile, in a small pan, melt remaining 2 tablespoons butter; add garlic, thyme, and nutmeg; stirring just until the garlic becomes fragrant. Stir in the flour and cook an additional few seconds. Add cream and cook, stirring until cream has thickened and is bubbling, about 2 minutes. Remove from heat, and drizzle over the cabbage. Top with the grated Gouda cheese and bread crumbs.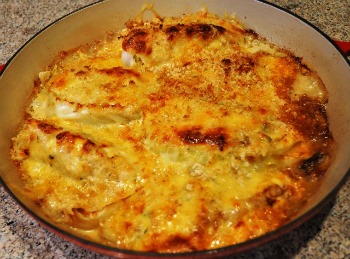 Bake until browned and bubbling, approximately 20 minutes. Taste and, if desired, sprinkle with more salt and pepper if needed. Sprinkle with sweet paprika for color.
Makes 4 to 6 servings.
https://whatscookingamerica.net/KarenCalanchini/Cabbage-Gratin.htm
Comments and Reviews