We have been making these Dunking Platter Cookies for about five years and rates them as excellent!  These Dunking Platter Cookies are also known as Cowboy Cookies.  These are a large cookie that will definitely satisfy your craving for some sweets.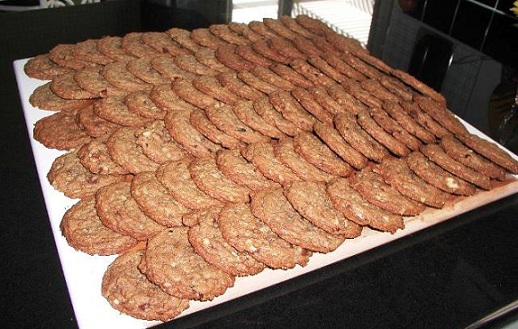 More favorite Cookie Recipes and Secrets To Making Perfect Cookies.  Also learn How To Have A Successful Holiday Cookie Exchange or Cookie Swap.
Dunking Platter Cookie Recipe:
Dunking Platter Cookies Recipe
Ingredients:
2 cups butter, melted
2 cups granulated sugar
4 eggs, beaten
2 teaspoons pure vanilla extract
2 cups old-fashioned oatmeal
2 cups raisin bran cereal
4 cups all-purpose flour
2 teaspoons baking powder
2 teaspoons baking soda
1 1/2 cups raisins
1 cup shredded coconut
1 cup semi-sweet chocolate chips
1 cup chopped nuts (of your choice)
Instructions:
Preheat oven to 350 degrees F. Either lightly grease or line cookie sheets with parchment paper or use the Silicone Baking Mats to prevent the cookies from sticking.
In the large bowl of your electric mixer on medium speed, combine the butter, sugar, eggs, vanilla extract, oatmeal, and raisin bran cereal.
In another bowl, sift together the flour, baking powder, and baking soda. Using medium speed of your electric mixer, slowly add the flour mixture to the cookie batter until combined.
On low speed, mix in the raisins, coconut, chocolate chips, and nuts just until all ingredients are combined.
Using a 1 1/2-inch scoop, drop the cookie dough onto prepared cookie sheets.
Bake for approximately 10 to 12 minutes or until light golden brown (do not over bake). Remove from oven and let cookies set on the cookie sheets for 1 minute to cool (they will fall apart when you try moving them if you don't let them cool slightly). Remove from cookie sheets and let finish cooling on wire cooling racks.
Yields 8 dozen cookies.
https://whatscookingamerica.net/KarenCalanchini/DunkingPlatterCookies.htm
Additional Oatmeal Cookies You Might Like:
Oatmeal Cookies
What could be easier and simpler than an old-fashioned oatmeal cookie?  Easy-to-make and always delicious! I like adding raisins to this simple version, but you can add nuts and/or chocolate chips if desired.
Cowboy Cookies
My daughter, Brenda Weller, says this are the best Cowboy Cookies ever. Once you make them, I know that you will agree with her.
Maple Oatmeal Cookies
This is a wonderful version of oatmeal cookies.
Soft and Chewy Harvest Cookie
Delicious and healthy cookies with the use of squash and oat meal.
Mountain Bar Cookies
These cookies are a very chewy and delicious no-bake cookies – just mix and eat! When my daughter, Nancy Hartman, was young, this was her favorite cookie to make.
Source:  Recipe and photo were shared with me by Shirley Mitchell of Redding, CA.
Comments and Reviews