A perfect comforting dish to serve on a stormy night, perhaps by fireside.  Tender beef, carrots with a bit of crunch, and healthy barley round out this lovely meal.  Serve with crusty bread, red wine, and a simple green salad.  There is nothing better then a warm rich stew on a cold winter night to make you smile.
Fireside Beef and Barley Stew recipe is hearty and delicious.  The photos and recipe were shared with my by Karen Calanchini, Food Stylist and Photographer, of Redding, CA.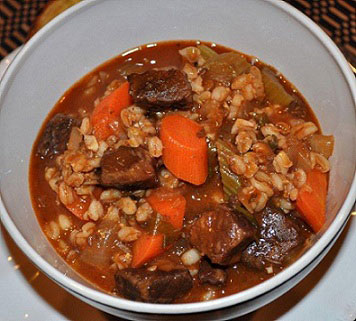 More delicious Poultry Recipes.
Fireside Beef and Barley Stew Recipe:
Fireside Beef And Barley Stew Recipe
Ingredients:
3 pounds beef chuck roast
1/2 cup red wine vinegar
2 beef bouillon cubes
Water to just cover the beef
2 tablespoons extra-virgin olive oil
4 cloves garlic, finely chopped
1 large red onion, peeled and chopped
2 ribs celery, sliced
4 to 6 carrots, peeled, and sliced
1/2 pound pearl barley
1 cup Burgundy wine (Shiraz, Merlot or Cabernet)*
1 can (8-ounces) tomato paste
8 cups Beef Stock or broth
2 bay leaves
6 dashes Worcestershire sauce
1 teaspoon chopped fresh rosemary leaves
1/4 cup chopped fresh parsley
Coarse salt and freshly-ground black pepper to taste
* You can substitute any red wine of your choice.
Instructions:
Cut the beef chuck roast into long 1-inch thick strips and then cut into bite size pieces. Remove fat and connective tissue as you go along and discard.
Place the beef cubes, wine vinegar, and water in a large pot. Bring just to a boil over medium-high heat; reduce heat to medium and simmer for 1 1/2 hours or until meat is fork tender but not falling apart. Check on the meat now and then to make sure liquid does not evaporate, adding a little water if necessary. Always cook stews at low temperatures; the surface of the liquid should barely move. When you simmer very gently, the fat melts out of rich meats and mingles with the liquid. The dish can then be chilled, and the fat easily skimmed off.
Add olive oil to a large soup pot, and heat over medium-high heat. Add garlic, onion, celery, and carrots; sauté for 6 minutes, stirring frequently.
Add the cooked beef and liquid, barley, wine, tomato paste, stock, and bay leaves. Reduce heat to low and let simmer for 1 1/4 hours, stirring now and then to make sure the barley does not stick.
Add rosemary, Worcestershire sauce, parsley, salt and pepper; simmer another 15 minutes, stirring once. Taste and adjust seasonings. Remove and discard bay leaves prior to serving.
https://whatscookingamerica.net/KarenCalanchini/Fireside-BeefBarleySoup.htm
Comments and Reviews