End of the season Tomato Corn Salsa using sweet corn, tomatoes, jalapeno peppers, and a southwest-style dressing make this a colorful and fresh Tomato Corn Salsa a delicious addition to your meal. A chopped roasted red bell pepper (seeded and charred skin removed) adds a nice smoky addition to this salsa.
This delicious Fresh Tomato Corn Salsa recipe, comments, and photo were shared with my by Karen Calanchini, Food Stylist and Photographer, of Redding, CA.
Learn about Corn Hints, Tips, and Information.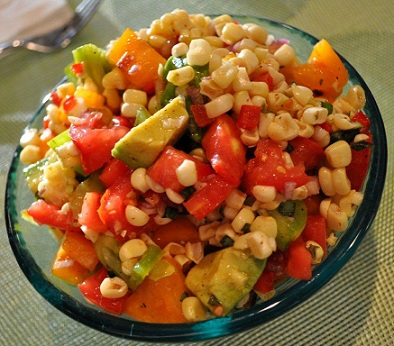 Fresh Tomato Corn Salsa Recipe:
Fresh Tomato Corn Salsa Recipe
Ingredients:
ears of sweet corn, husked and silk removed
2 large tomatoes (various colors), chopped
1/2 red jalapeno chile pepper (stems, ribs, & seeds removed), finely diced
1 small red torpedo onion, diced*
2 garlic cloves, diced
Southwest Dressing (see recipe below)
1 avocado, peeled, pitted, and diced
Fresh cilantro leaves
* Any type of onion may be substituted.
Instructions:
Light a barbecue grill or preheat a grill pan. Brush the corn lightly with olive oil and sprinkle with salt and pepper. Grill over moderately high heat until charred in spots but still slightly crisp, approximately 7 minutes. Learn How To Grill Corn On The Cob.
Let the corn cool slightly and then cut the kernels from the cobs (Scrape the corn kernels from the ears of corn by using a sharp kitchen knife and a large cutting board. Cut off the stem end to give a flat base. Hold the ear, tip end up, then cut downward, removing a few rows at a time).
In a large bowl, combine the prepared corn, tomatoes, chile pepper, onion, and garlic; set aside.
Prepare the Southwest Dressing. Pour the prepared dressing over the corn salsa mixture. Using a wooden spoon, gently fold the avocado and cilantro into the salsa. Taste and adjust seasonings to your desire.
Either serve as a salad with your dinner or in a bowl surrounded with your favorite salsa chips. Enjoy!

Southwest Dressing:
1 teaspoon ground Ancho Chile powder*
Coarse salt or sea salt
Freshly-ground pepper to taste
Juice from 1 large fresh lime
1 teaspoon honey
* Chipotle chile powder may be substituted.
In a small container with a lid, combine chile powder, salt, pepper, lime juice, and honey. Either shake well or combine with a wire whisk.
https://whatscookingamerica.net/KarenCalanchini/FreshTomatoCornSalsa.htm
Comments and Reviews